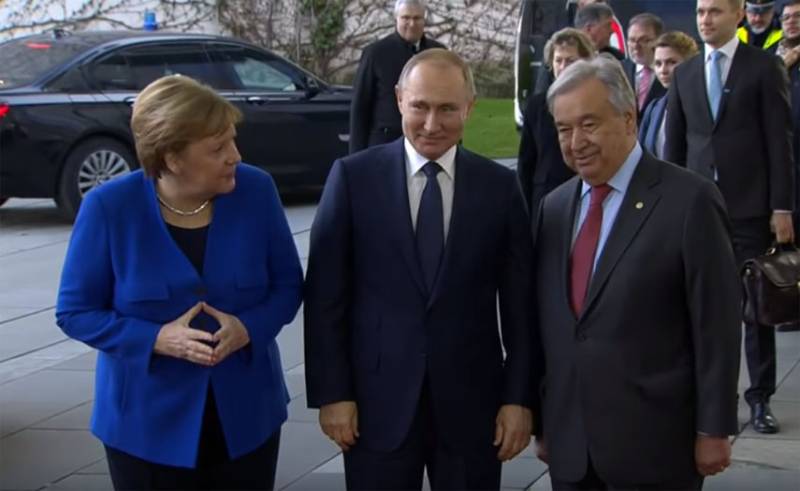 A major German publication, Die Welt, decided to publish a review of the European press on the outcome of the summit in Berlin. This summit, recall, was dedicated to the settlement of the conflict in Libya. Journalists at Die Welt note that, despite the joint adoption of a declaration on the need to end the confrontation in Syria, "the world expresses concern that Libya will turn into a second Syria."
The opinion of journalists of the Italian newspaper La Repubblica is cited, which says that "Vladimir Putin is the clear and only winner after the meeting in Berlin."
From an Italian article:
Supporting Haftar with his mercenaries while avoiding the interference of official forces, Putin gained political weight in North Africa, which was lost by Russia after the collapse of the Soviet Union. Without his (Putin's) mediation, without his pressure on Erdogan, the Berlin Conference would have been completely impossible. If the truce continues, there will be no harm to Putin. If he fails, it will be the failure of Europe, and he can continue the proxy war that he launched.
Commenting on the outcome of the summit in Berlin, the Dutch publication De Telegraaf notes that "the situation in Libya could repeat the Syrian scenario, where armed forces and proxy-controlled major regional and world powers clashed in one country."
The French publication "La Croix" requires perseverance from the official Paris, noting that "too many players" have joined the Libyan problem, including Russia, Turkey, Egypt, the UAE, Qatar, Italy and others.
"La Croix":
Influence from abroad made the situation in Libya even worse.
Apparently, after the French (including as part of the NATO coalition) bombing of Libya, the situation, according to this publication, was better in Libya ...