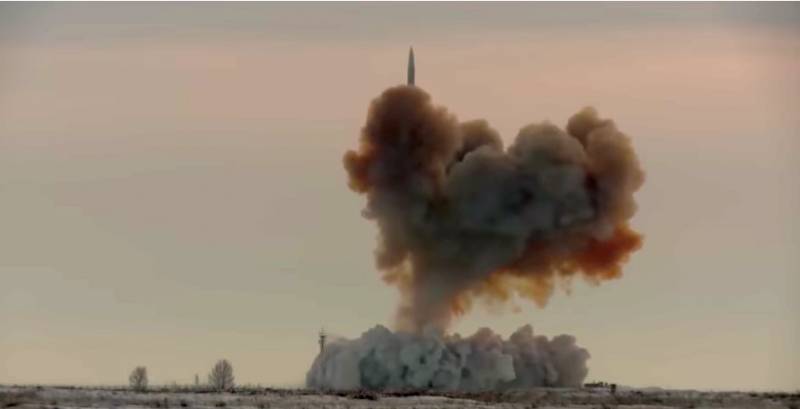 The recently appointed deputy chairman of the United States Military Command and Control School (Joint Chiefs of Staff), General John Hayten, speaking at the Center for Strategic and International Studies (CSIS, the famous think tank) in Washington, made a number of interesting statements about the so-called hypersonic systems
weapons
. He also made a number of statements on this subject a few days earlier.
Revelations of General Hayten
Strictly speaking, of course, the conventional warhead (BB) of an ICBM or SLBM, or even an infantry ballistic regiment, is hypersonic, but it's practically customary to call in this way precisely guided and maneuvering weapons at such speeds — wing-planning units (PKB), guided and maneuvering warheads, hypersonic aeroballistic and cruise missiles.
But back to our sheep, or rather, to our general. Speaking at CSIS, he initially touched on the changes in his fate - after all, it had not been three months before Heiten was promoted, and from the post of commander of STRATKOM (Strategic Command), he became deputy chairman of the OKNS. As he remarked with irony, "I used to command 150000 Americans and was responsible for absolutely every nuclear weapon that we have in the army, and now I am one of the five [members of the OKNS], and I'm not commanding anything and no one I answer, but for some reason my voice and advice are more significant than before: this is a new quality, I'm not used to it yet. " It's strange, by the way, that he said "five," because in addition to the chairman of General Milli and himself as deputy to the military command and control department, the chief of staff of the army (Ground Forces), the air force, the commander of naval operations, the commandant of the Marine Corps, chief The Bureau of the National Guard and, more recently, the commander of space operations, because Trump chose the most expensive and most senseless of all the options for creating space troops - he created another type of armed forces instead of creating a separate kind of troops, a separate command, etc. At one time, the Armed Forces of the Russian Federation sought, based on American experience, including to reduce the number of types of aircraft, and from the five-service scheme (air force, air force, air defense forces, navy, strategic missile forces), they first switched to a four-service one, pouring air defense into the air force (which, given the hungry 90s, had an extremely negative impact on the situation with the country's air defense), then the Strategic Missile Forces out of sight became a separate branch of the central subordination troops, which, however, had practically no effect on them. And here the Americans are already with a five-species scheme, from which we have left (the National Guard is still not counted, otherwise there will be 6 types in general). But perhaps he just made a reservation.
Then he, among other things (in his speech there was enough "water", note), turned to the topic of hypersonic systems. Hayten again declared America's grave lag in this matter. True, he said something very streamlined. First he declared that he was behind, then that he was "competing".
"We need to understand what failure consists in, learn from these failures, learn from the mistakes we made, quickly move away from these mistakes. I look into the past for hypersonic weapons. We are now in serious competition with a number of rivals in the world in the field of hypersonic weapons. "
The dualism of opinions within one general
A few days earlier, in another speech, Heiten announced the threat of a backlog of US forces from Russia and China.
"We need to observe how fast Russia and China are developing, which is moving at incredible speed. So we need to be sure that we are developing at least at the same pace as potential opponents."
At the same time, according to him, the US Armed Forces "are ahead in most respects, but this advantage will not matter if the enemy moves faster." That is, it seems, they are behind, but it seems that they are not, and even ahead, but they are afraid to be behind? You are already determined there or something, whether you are behind or not!
Moreover, earlier, when he commanded STRATKOM, in his opinions he did not wag like a maritime boat, but honestly and openly said - yes, we have lagged behind, and lagged behind very seriously, and so far we have nothing to answer, and nothing to defend ourselves, and it will take years, to catch up. True, he forgot to say that the years will be very long. After all, our "Vanguard" is not the first generation even of the design bureau, but, as it were, the third, if not the fourth. And to jump over several generations at once, even having some backlog, is almost impossible. But it's clear that the head of the Strategic Command is allowed, the deputy chairman of the OKNS is not allowed - the status is not the same, the position is high, and for an unrestrained way of thinking you can lose your hope and once hope to rise one more step and take the highest point in the American military hierarchy (Secretary of Defense - not military by post), but even by the post itself. Given the speed with which both Trump advisers and ministers are changing, the danger is real.
Moreover, Trump himself likes to talk about the "dozens" of hypersonic "missiles" that are "being made" and are about to fill up the army with them, because they spend so much money on this all. Well, a person measures everything with money; he cannot understand that it is often impossible to buy competencies and technologies, they need to be developed. Therefore, it will not tolerate a refutation of its words from the lips of such a high-ranking military man. Haiten understands this, and therefore also changed the record on the issue of START-3 — he had previously advocated an unconditional extension, now he started a song about "China's inclusion" and the like, that the extension simply torpedoes.
Memories of what did not happen
But returning to the speech in CSIS, it can be noted that the general said something else. Here is a quote in particular:
"And ten years ago, we were ahead of everyone in the development of hypersonic weapons. We had two programs - HTV-1 and HTV-2, under the auspices of DARPA. They did not work as they should. What did we do after they failed? We started years of research into these failures and then closed the programs. They're not accelerating like that! "
And further:
"Every time we have a failure at launch, we stop for years to recover. This is crucial when it comes to people's lives, as, for example, in the case of the tragedies of the Challenger and Columbia shuttles. However, if it's not if we are talking about preserving human life, we need to understand how to move fast, how to adapt, how to learn, how to quickly launch. We must do this in the scale of all our activities. But we do not! Therefore, we need to return speed to our processes Therefore we need to know to take risks. "
The first thing you want to do is refresh the general's memory. The fact is that, 10 years ago, the Americans didn't have any leadership in the field of creating hypersonic missile defense systems, nor in the field of creating guided and maneuvering BBs (UBB and MBB), nor in the field of creating PKB.
It is worth remembering what is HTV. These are programs for creating PCB technology demonstrators, and not even prototypes. That is, in our opinion, this is research, and not the "coolest" research. They were created during the DARPA FALCON program - Force Application and Launch from Continental United States, that is, "Use of force and launch from the continental United States." It had 4 components. The first is the X-41 Common Aero Vehicle, a common air platform for military and civilian hypersonic loads, both for ICBMs and for the Kyrgyz Republic - something like a reusable hypersonic planning carrier container for about half a ton of cargo that could be dumped. What happened to her? Nothing - there were no tests, and such an ambitious and all-encompassing and unrealizable undertaking was quietly covered up and the funds, of course, were mastered. The second is HTV-1, a technology demonstrator that they wanted to launch in 2007, but didn't launch anything and quietly covered it.
The third is HTV-2, the same demonstrator, but looking different. Two test launches were made using a Minotaur-4 Lite space rocket (ILV), created on the basis of stages and nodes, which had recently been rested in the Bose MBR MX. The first launch was on April 22, 2010, the device separated from the ILV by 160 km and began to decline into the atmosphere. There was no plan to maneuver (yes, he probably couldn't), a 30-minute flight at a speed of 20M above the ocean was planned. But in less than 9 minutes, the connection was interrupted - the apparatus began to vibrate and attempted to enter rotation and "the flight was interrupted". The second launch took place a year later, on August 11, 2011, and was also unsuccessful, because the device again fell apart. There were no more launches, and it was not planned, although they considered such an option after the failure of the first two launches. But HTB-3X Blackswift launches were planned, but the program was also quietly covered. But there was no "stop for years" - they opened a new program, which they also covered later without testing, having opened several new ones at once relatively recently.
It is strange that Haiten recalled this particular program, because there were others. For example, AHW (Advanced Hypersonic Weapon) - there were 2 launches, in 2011, November 17, the demonstrator quite successfully separated from the carrier and was able to fly 3700 km, planning, but not being controlled. The speed, however, was slow: according to some sources, it was 7M, according to others - 5M. With such a speed, there will be no "gliding" in the atmosphere and rebound planning. The second launch took place in 2014 and lasted 4 seconds - the rocket exploded. There was nothing else under this program either.
Russia's leadership in the "hypersonic issue" is not accidental
In general, with such baggage, talking about some kind of leadership is simply stupid. In Russia, 10 years ago, it completed quite successful tests of the second-generation PCB at least 15Y70, which began flight tests in 2004 with success during the Defense 2004 exercises and was replaced by the current 2011Y15 in 71, and not because bad, but because the new option was more promising. Now it has been adopted by the Avangard complex with ICBMs 15A35-71. This is not to mention other programs, such as the "Dagger" and "Zircon" - work on them was already underway.
Like him, the US leadership in hypersound was not even 20 years ago, because the ancestor of 15Y70 and 15Y71, "Albatross", flew as early as the sunset of the USSR. And even 30 years ago there was no American hypersonic leadership. Because in the 80s, work was underway on UBB, for example, for the R-36M2 Voevoda, as well as for SLBMs. Almost three dozen launches were made only under the UBB program for SLBMs, and as a result, reliability and accuracy were brought to very high levels. But the deployment of this UBB did not follow then. In general, our current leadership is not accidental and has evolved over decades. Although it was precisely in the 80s that the USSR and the USA were still in approximately similar starting conditions on this issue - the Americans then also carried out various theoretical and experimental works in the field of MBB and UBB, although not so large-scale. The USSR, and then the Russian Federation, consistently, despite the difficult situation, stepped up efforts on the topic and they gave a logical result. There is no chance leadership on such a question - no one seems to have found treasures with alien technology and other "grand pianos in the bushes".
For some reason, it seems that General Hayten, being a fairly sensible military leader. he knows all this. But by post he is not supposed to tell the truth. He outlined the main thing - that the Americans are lagging behind, and lagging behind seriously, and so far nothing has been done to narrow the gap. Along the way, of course, he is trying to get more funds for these programs, although he realizes that at least 10 times increase funding, but a miracle will not happen, because competencies and technologies are not enough. And how much money you want litter - will not help. It's like with pregnancy - for any money and an increase in the number of participants, the gestation period cannot be reduced.
This is not to say that the Americans are not doing anything. They do. So, for example, the other day, successful fire tests of rocket engines for a hypersonic experimental rocket launched from an aircraft, the X-60A, took place. This is not a combat platform, but purely experimental, with the speed of the "lower bar", which makes it possible to consider it hypersonic - in the region of 5M, possibly more. It is intended for testing various, including maneuvering loads. But, of course, the number of fire tests of even an engine must be measured in dozens before proceeding to the next stage. In general, work there is no end. Other work is underway, but there is almost no practical way out. Let's see what happens next.
In addition, Russia is not going to stop there. Tests of a new type of PKB, Anchar-RV, are underway. Recently, a launch, obviously, under this program, along the southern test track, took place. It was announced that for Sarmat ICBMs 15A28, in particular, hypersonic planning blocks of a "fundamentally new design" are being created. It is very likely that both they and Anchar will be representatives of the so-called "motor" hypersound - the "Vanguard", as far as is known, does not have its own engines, and these are likely to be, which will increase their maneuverability and other capabilities even more. So, most likely, "they will not catch up with us."
doubting Thomas
However, General Heiten in this case seems to be the pinnacle of adequacy in comparison with his counterpart in the OKNS, army chief of staff General McConville. Speaking to the Atlantic Council the other day, he said that the deployment of the Avangard complex "does not affect the balance" between the superpowers. Of course, the deployment of the first UKP regiment and the first section with 2 silos of ICBMs does not affect the balance of forces, but in the future, taking into account the potential capabilities of this complex, it will, and even very. It's hard to say why they asked such questions to the general general at all, because this is not his area of ​​competence. Perhaps, in order for him to "give birth" to a magnificent explanation, why, in his opinion, "Vanguard" does not affect anything.
Here it is:
"I didn't see them actually hit any target using this system. I know in which direction our technologies are developing and at what speed they are developing, so I don't think that this fundamentally changes the situation."
Let us leave alone US technology, which is constantly developing somewhere there and overtaking everyone, but then does not allow to close the gap. But the general passage about the fact that he "did not see" how the "Vanguard" actually hit the target is simply beautiful! What is it like? Intelligence did not report to him that the PKB had successfully and with a given accuracy hit the "peg" in Kamchatka, what should the American means of technical control fix? We are talking about launching, for example, at the end of 2018, when launching was carried out from the Dombarovsky Kura position area (Americans do not observe the results of launches along Sary-Shagan). Is this intelligence to blame or the general did not read? Or does he need 15Y71 to hit a real target, say, with a thermonuclear charge of high power? Or at least ordinary? Sometimes it's better to chew than talk, Mr. General! And then, God forbid, the wish will come true.