President of Belarus Alexander Lukashenko before the new year did not achieve concessions on oil supplies from Moscow. Now in Minsk they are looking for other suppliers. It lists a group of different countries from where oil can come to Belarus. Logistics routes are determined.
Alexander Lukashenko seeks oil for Belarusian refineries
Initially, it was a matter of obtaining raw materials for Belarusian oil refineries from the ports of Poland through the Druzhba pipeline. But the Poles politely replied: this line is not intended for reverse pumping of the product.
Now the eyes of the Belarusian authorities fell on the ports of the Baltic states. I must say that this direction has already been mastered quite well, but only for export deliveries of petroleum products from Belarus. The reception of crude oil from the Baltic states to the Mozyr and Novopolotsk refineries has yet to be mastered.
About ten years ago, Belarus already had experience in delivering oil not from Russia - through the Odessa-Brody Ukrainian pipeline. The experience, however, is unsuccessful. Then, as we recall, a dispute arose between Moscow and Minsk over oil duties.
Until 2010, Belarus received oil from Russia duty free. She processed it at her plants, partially used it for her own needs, and sold the rest (most) - for export. Moscow then reasoned that Belarus, without justification, was earning superprofits because of cheap Russian raw materials, and suggested that exempted oil would go only to the republic's domestic consumption. Oil for export shipments will have to pay a fee, as all Russian companies do.
Alexander Lukashenko was indignant and decided to take oil in Venezuela from Hugo Chavez. It was not difficult to conclude such a deal. After a while, six million tons of Venezuelan oil poured into Belarusian refineries, which, taking into account the delivery, cost Belarusians almost twice as much as Russian. The deal was closed.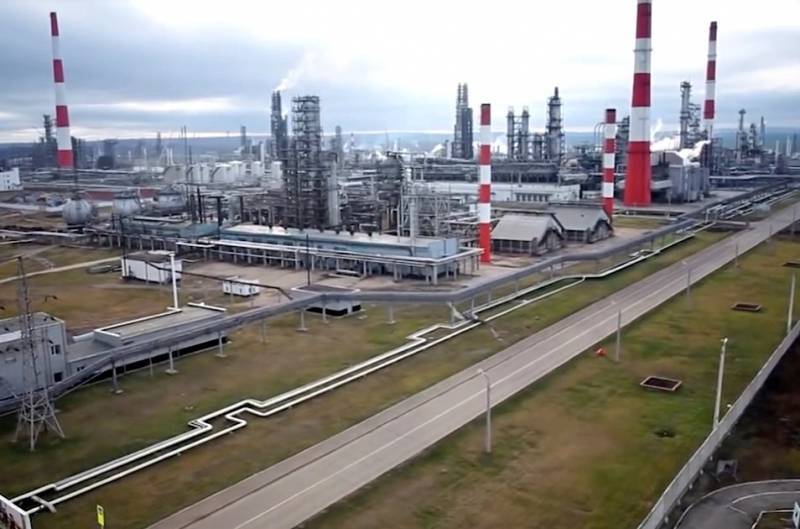 A new tension in relations between Minsk and Moscow arose last year due to the introduction by the Russian government of the so-called budget rule. In accordance with it, the fiscal burden is redistributed from export duties on mineral extraction tax. The price of oil at the well rises, at the border it falls. All Russian companies are moving to the new rule. The Belarusians did not like this situation, and they protested.
You can understand them. The oil refining industry gives the country 12-15% of industrial production and 20% of export revenue. In Minsk, it was estimated that the republic's loss in the next 5-6 years due to the abolition of the previous oil benefit would amount to about $ 10 billion (for 2020, the entire budget of Belarus is $ 12,5 billion).
But Russia has nowhere to retreat. If Minsk leaves the previous preferences, then they get a significant competitive advantage over Russian oil companies. Amicably, the parties failed to agree. So the president of Belarus decided to follow the old disastrous option - to import oil from foreign suppliers.
All flags to visit?
Last week, the Prime Minister of Latvia, Krishyanis Karins, visited Minsk. At a meeting with President Lukashenko, they discussed the possibility of oil supplies to Belarus through Latvian ports. For the Latvian economy, loading ports is a sore point.
With the development of the Russian Ust-Luga, where the export of our companies is moving, the turnover of Latvian ports has fallen sharply. Now the Balts are looking for their happiness in Belarus. So Karins came to Lukashenko, who until recently was called "the last dictator of Europe." Commenting on his visit, the Latvian Prime Minister said that there is great potential for improving relations between countries at both the economic and political levels.
This is against the background of the fact that the Belarusian leader is now being invited to visit other EU countries, for which Lukashenko has been de facto "shaking hands" for many years.
And not only Europeans reached Minsk. In early January, US Secretary of State Mike Pompeo was to come to meet with Lukashenko. A missile attack on an American military base in Iraq prevented this trip. Pompeo announced that he had rescheduled his visit at a later time.
Lukashenko quickly felt "multi-vector" in Washington, and now they are trying to build their game on the contradictions between Moscow and Minsk. American emissaries frequented the capital of Belarus. Their rank is growing.
First, Deputy Assistant Secretary of State George Kent visited Minsk, then Assistant Secretary of State for European and Eurasian Affairs Wess Mitchell. After him, President of the United States National Security Advisor John Bolton met with President Lukashenko. Now Minsk is waiting for Secretary of State Mike Pompeo.
These meetings are covered rather sparingly, which gave room for commentators of various kinds to fantasies. We agreed to question the participation of Belarus in the Eurasian Economic Union (supposedly, Belarusians entered there solely because of favorable conditions for trade in petroleum products). Some went even further and did not rule out the strengthening of the partnership between Minsk and NATO.
So far these are idle inventions of a public far from power, but who knows how events in Belarus will develop further. After all, we already have a precedent when, in an interview with the Khabar news agency, Lukashenko called the Great Patriotic War "not our war". It is difficult to explain these words of the leader of Belarus only with an insult to the oil, which is becoming more expensive for Belarusians. But for the West, such words of Alexander Lukashenko are a reason to come closer to realize their own goals and objectives.