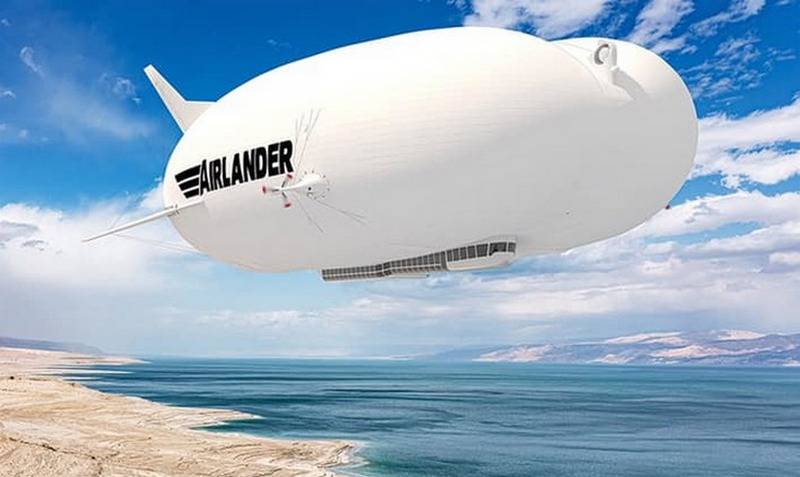 Render Airlander 10 in serial form
The British promising hybrid airship Airlander 10 is ready for mass production. As transmits
"Warspot"
, the British company Hybrid Air Vehicles introduced the serial version of the airship.
Initially, Airlander 10 was developed by order of the American government. The project was opened in 2009. It was planned that the vessel will perform observational functions. However, the project was frozen amid cuts in the US defense budget, and in 2013, the British company Hybrid Air Vehicles, which led all development from the very beginning, bought out its project.
In 2016, the first prototype of the airship crashed during a landing, the cockpit was particularly affected, so it was decided not to restore it, but to make a number of changes to the design of the giant aircraft, after which to try an already improved version.
As developers previously stated, Airlander 10 is a hybrid aircraft that combines three principles of aeronautics: a balloon, a helicopter and a fixed-wing aircraft. The length of the flying hybrid is 92 meters. It can fly at an altitude of 4,9 kilometers at a speed of up to 148 kilometers per hour and carry up to 10 tons of cargo. In manned flight mode, a ship can stay in the air for five days and three days in remote control. According to the developers, the airship can perform the functions of observation, communication, provide assistance and even transport passengers.
In the new version, the Airlander 10 received an enlarged gondola, and the fuel tanks were moved inside the case. The engines in the front are removed, and a single thruster module is now used instead. The shape of the case has been improved, now it has the best indicators of resistance to air flow. In addition, Airlander 10 can be produced in a fully electric form, without diesel generators.
Hybrid Air Vehicles noted that they already have a contract for 10 airships from a commercial customer, but intend to focus on military orders in the future.