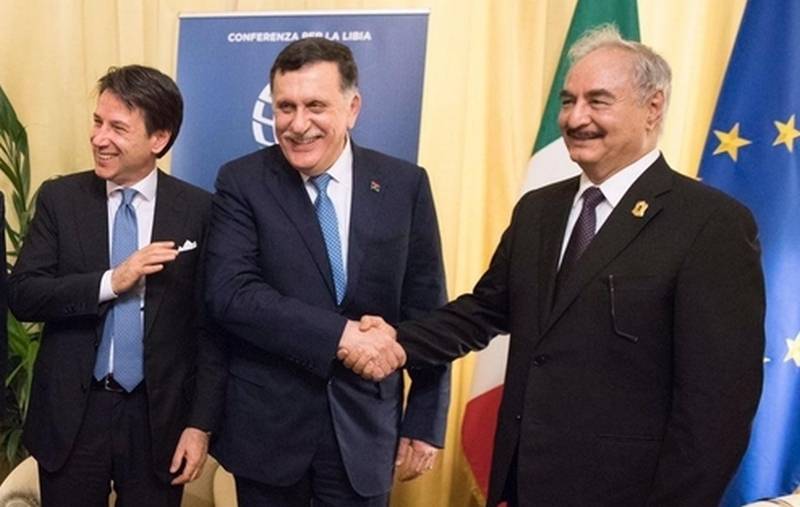 The head of the Government of National Accord (PNS) of Libya, Faiz Sarraj, who is considered to be the head of the Libyan government in the West and is sitting in Tripoli, threatened to call international forces under the auspices of the UN in Libya if the Libyan National Army continues its offensive Khalifa Haftar. He stated this in an interview published in the newspaper Welt am Sonntag.
If Khalifa Haftar does not stop his offensive, the international community will have to take measures, namely to protect the civilian population of Libya, including through international forces. Such forces must operate under the auspices of the UN. Professionals then need to discuss who will participate, such as the European Union, the African Union or the League of Arab States
- he said.
At the same time, Sarraj called the role of the European Union in resolving the conflict in Libya insignificant. According to him, he expected a "more active position" and the EU's speech against the offensive of Haftar.
Europeans came too late
- added Sarraj.
Meanwhile, German media reported that the commander of the LNA, Khalifa Haftar, arrived in Berlin to attend a conference to resolve the conflict in Libya
Germany will hold an international conference on the settlement of the situation in Libya on January 19 in Berlin. In addition to representatives of the warring Libyan parties, representatives are expected to participate, including at the level of heads of state, Russia, Algeria, Great Britain, Egypt, the United Arab Emirates, China, the United States, Turkey, and France.