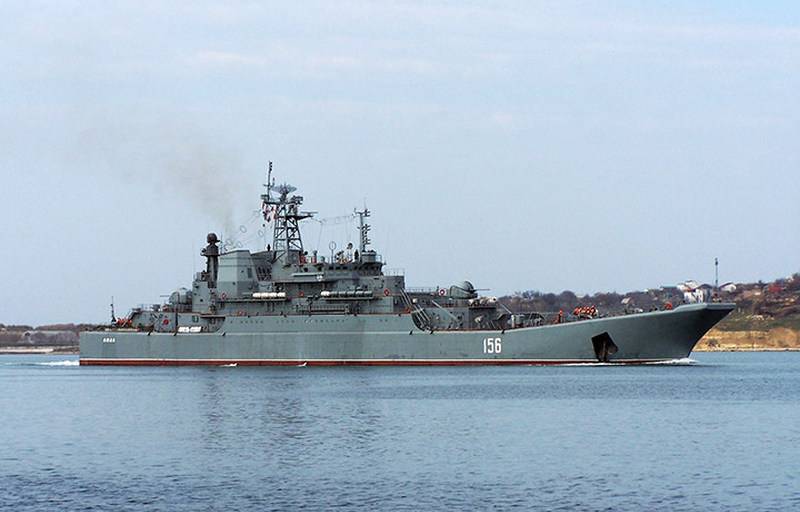 Return from repair to the Black Sea
fleet
BDK "Yamal", which collided in December 2017 with the cargo ship "Orka-2" in the Aegean Sea, is scheduled for the third quarter of 2020. According to TASS, citing a source in the ship repair industry, the repair of the BDK was delayed due to a lack of funds.
Since April 2018, Yamal has been at the 13th shipyard (SRZ) of the Black Sea Fleet. Due to the redistribution of funds for the repair of other ships, including the flagship of the Black Sea Fleet, the cruiser Moscow, it is planned to complete the restoration of Yamal's technical readiness and return it to the fleet only in the 3rd quarter of this year
- the agency leads the words of the source.
Before being transferred to the 13th shipyard, the Yamal BDK underwent repairs at Sevmorzavod (part of the Zvezdochka Shipbuilding Center of the OSK), where damage to the underwater part of the ship was repaired. At the 13th shipyard, the damaged superstructure was restored to the ship and "should complete maintenance work on the ship's power plant."
BDK "Yamal" participated in the Syrian express, repeatedly delivering goods to the Syrian Tartus. On December 30, 2017, in the Aegean Sea, when passing the Karpathos Strait with the BDK, the Orka-2 bulk carrier under the flag of Sierra Leone collided. The ship, which received damage under its own power, reached Sevastopol, where it got up for repairs.
The large landing ship "Yamal" is the last in a series of 13 ships of Project 775 / II, which is the second series of ships of Project 775. The construction of the series was carried out at the shipyard "Gates of the Midnight named after Bohateryw Westerplati", Gdansk, Poland.
It was laid at the shipyard under the name "BDK-67" on April 06, 1987, launched in 1988. He joined the Black Sea Fleet on April 30, 1988.
Main characteristics: Displacement 4012 tons. Length 112,5 meters, width 15 meters, draft 3,7 meters. Speed ​​18 knots. Cruising range of 6000 miles at 12 knots. The crew of 98 people. Power plant: 2 diesel engines, 2 screws, power 19200 hp
Capacity: Onboard can be located up to 500 tons of equipment and cargo and 225 paratroopers.
Tank
hold length 95 meters, width 4,5 meters, height 4,5 meters.
Armament: 2x2 57-mm gun mounts AK-725, 2x1 45-mm guns 21KM, 2x40 122 mm PU NURS MS-73 Grad-M, 4x8 PU MTU-4 MANPADS.