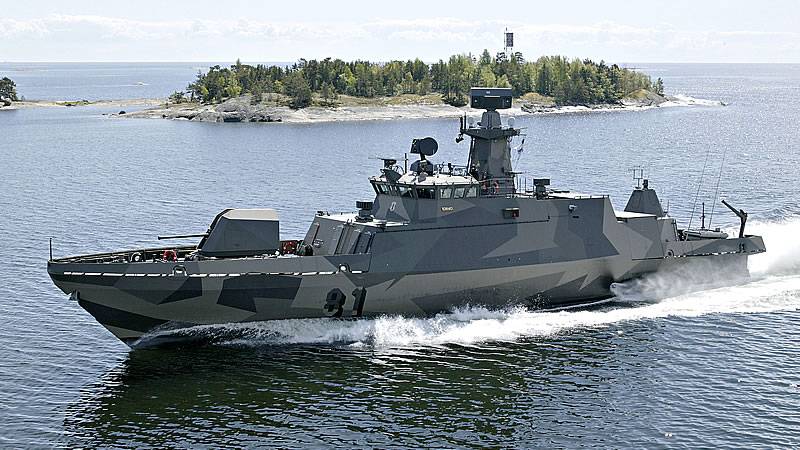 The Finnish Navy received the first modernized Hamina-class missile boat, which underwent a major overhaul and modernization at the Patria enterprise. The remaining three boats of this type should undergo modernization before the end of 2021. It is reported by Navy Recognition.
Four Hamina-class missile boats make up the core of the Finnish Navy. They are deployed at the naval base in Upinniemi, 15 km southwest of Helsinki. As a result of modernization, boats built in the late 1990s and early 2000s should last until the 2030s.
Details of the modernization were not disclosed, but it is known that during the upgrade the boats receive funds to combat submarines and new opportunities for defense. In particular, torpedo launchers Torpedsystem 47 (Tp 47) developed by the Swedish Saab Dynamics and 40-mm naval artillery mounts Bofors-40 Mk.4 will be placed on board. from BAE Systems.
Hamina type boats are the fourth generation of Finnish missile boats. All boats are named after the Finnish coastal cities. The first boat was ordered in December 1996, and the fourth became part of the Finnish
fleet
June 2006 year.
The hull is made of aluminum, and the superstructure is made of reinforced composite carbon fiber. The shape of the vessel was designed specifically to reduce radar visibility. Metal parts are covered with absorbent material.
The main power plant of Hamina-type missile boats includes two 16V 538 TV93 diesel engines (total power 7550 hp) of the German company MTU, each of which works through a gear transmission to two reversible water-jet propulsion engines. This allows you to use boats in shallow water, as well as maneuver in narrow straits.
The armament of these missile boats is based on four container launchers of anti-ship missiles MTO-85M. This missile was created by the Swedish company SAAB on the basis of the RBS-15 MK2 anti-ship missiles. The main difference from the prototype is an improved turbojet engine, thanks to which the maximum firing range is increased by 50 percent - up to 150 km.
In addition, the boat's armament initially includes a Bofors 57-mm gun mount, a vertical launch for eight Umkonto guided short-range anti-aircraft missiles from the South African Denel company, and two 12,7-mm machine guns. The solution to anti-sabotage tasks is provided by the nine-barrel Elma grenade launcher.
The radio-electronic equipment includes a TRS-3D / I6-ES three-coordinate detection and tracking system for airborne and surface targets (maximum detection range of air targets 90 km), as well as a Zeros 200 firing system with radar, television, thermal imaging stations and a laser rangefinder. The boat is also equipped with a podkilnaya and lowered hydroacoustic stations.
Processing data from the specified radio equipment or external sources, and issuing target designation systems
weapons
implemented using the automated control system ANCS-2000.