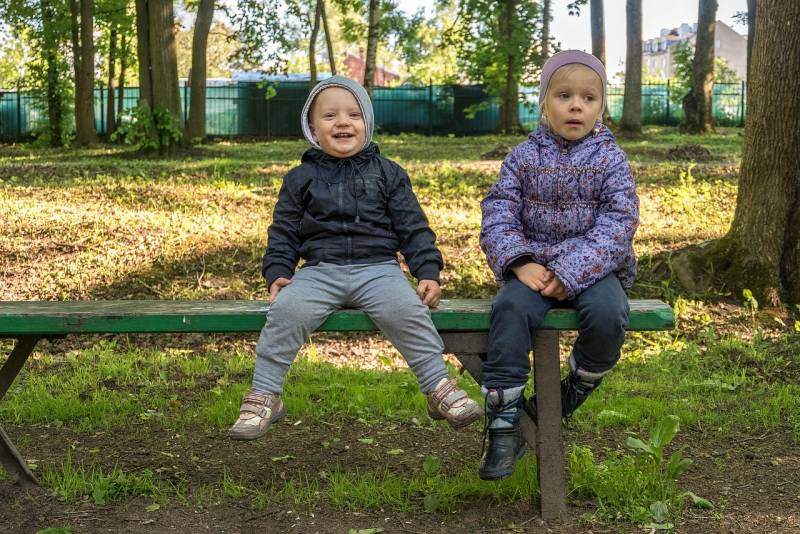 I was led to sit at the keyboard by an article by the respected author Roman Skomorokhov entitled
"Deserted Russia: to whom shall we say thank you?"
If Roman considers the demographic situation in Russia as a one-child father, then I will express my point of view from the perspective of the father of four children.
I quote the author:
"The Russian state does absolutely nothing to increase the population of the country. And this despite the fact that it, the state, is vitally interested in this.
Let's face the problem and honestly answer the question: what is the main task of the state and what is the main task of the citizen of this state, naturally, referring to Russia.
The main task of a citizen is to pay taxes. Direct and indirect, income tax, VAT and other small things. Well, it seems to be an option - to grow a replacement for yourself, which / who will also pay taxes all his life. "
The state is not a thing in itself, not a spherical horse in a vacuum. This is the main mechanism for implementing social needs. In Russia, this is especially true.
With our climate, geography, ethnic diversity, a country can live and develop normally only if there is a strong, financially secure, respected by citizens state that is able to correctly regulate the internal situation, support socially vulnerable layers of society, and guarantee security from external threats.
Sorry, but how to solve all these problems without collecting taxes? Of course, citizens must pay them, but still this is not their main task. The main task of man is to live a worthy life and leave a shift after himself. The task of the state is to contribute in every way to this.
A little bit about yourself. My attitude to the Russian state, or rather, to the authorities, has changed over time. In 1993, I voted against the current constitution. Having not found work in my specialty after graduation in the mid-90s, we decided with my wife (at that time pregnant with my first child) to create our own business. Happened. And for many years we were engaged in our own production. At the same time, a family grew, children were born, a house was built.
They didn't make capital, production always requires investments, and in small business profit is not gigantic, but I was always sure that I would provide for my family. But around the turn of the decade, the market began to rapidly crush retail chains. Independent retail, and with it the wholesale link, began to quickly disappear. Then came the turn of manufacturers. I had to bow to the network, and there are such conditions that if you have at least minimal profit, rejoice that you are not at a loss.
A very strong blow was dealt by the events of 2014 (for which special thanks to the "non-brothers"), when, due to the currency crisis, imported components in products sharply flew in price, followed by domestic ones, and the networks did not stupidly consider the issue of raising them for several months selling price for our product. Contracts had to be executed even on unfavorable conditions, otherwise you fly out of the network without a chance to return. But banks require payments on loans, and the state - taxes.
In general, three years ago, the business had to leave. It is hard to describe what a shock it was for the family. I constantly felt guilty in front of my wife and children. It is difficult to find a job for a former entrepreneur. The situation in any organization, a person with experience in independent business, can be seen instantly, not every leader likes it, it's difficult to get used to bending. So it worked for a while as you have to.
At the same time, God rewarded us with good, intelligent children. One after another, they graduated from school with gold medals and, according to the highest exam results, entered the most prestigious Moscow universities. Two older girls left to study at a relatively safe time for us. One already graduated from Baumanka with honors, found a good job, at the same time studying in graduate school, will soon begin to teach. The other will soon graduate from the Sechenov Medical Academy, also goes for a red diploma.
She had a harder time with her third daughter, she is very stubborn, but without tutors a good result in the USE cannot be pulled out, and she additionally taught, in addition to basic subjects and English, also Chinese. But nothing, giving the child the opportunity to get an education is sacred.
Probably saw ads with the services of teams of loaders. I always had several numbers of such employers in my phone. When there was not enough money for tutors, he called and found such a side job. It's bad that they pay unfairly. An hour of work of a good tutor is equivalent to four hours of unloading a truck. But I don't get used to it, in my production always male hands and backs were in short supply, so I often had to load.
The daughter did not disappoint, and this year she entered (just do not kick much) at the Higher School of Economics at the most prestigious faculty of the world economy, where she is dean of Karaganov. She is now my agent in the nest of domestic liberalism (a joke). My son is still at school, but also going to study in Moscow, is very interested in the upcoming revolution in engine building.
I was lucky, a year ago, thanks to my education and experience, I was able to find a job in Moscow in the state structure. In the main place I combine two positions, I still work in another organization in the working specialty. I wound on two regions. What is there to do? Family must be pulled.
So I have the opportunity to look at life from different class positions: no longer bourgeois, but who, I myself do not understand. Either I belong to the intellectual stratum, or the proletarian ... Now I have received the first real vacation in my life - I'm thinking.
So, I turn to the main thing. Previously, I didn't particularly like our government, but who likes to pay taxes and high interest on loans? There is still pension reform. It was especially a shame for his wife. According to old rules, she would retire at 50. And here time - and 63. True, Putin played for women up to 60, and mine, by the presence of four children, will get the right to 56. Well, at least something.
Then he began to think: after all, all my children, thanks to their diligence and our efforts with my wife, honestly, without any blat, have a real opportunity to get an excellent education at the expense of the budget in the best universities of the country. A year and a half ago, I had a quota operation at the federal center for traumatology after I tore my knee ligaments in a martial arts training. If this is not the concern of the social state for its citizens, then what is it?
And in which country is there still maternity capital, which for some reason is taken for granted? And the benefits to young families for young children, introduced last year and supplemented this year?
It is clear that there are always those who do not have enough or no help at all (for example, it is high time for students to raise shameful scholarships). The state mechanism requires continuous improvement. And the state needs children, future taxpayers, but they are much more important to us, parents. Does anyone else know a way to throw their genes into the future? Yes, raising children is difficult, sometimes it seems unbearable. Raising them with people is even more difficult. But who will do this except us?
I'll tell you a recent case. I go into the subway car. Two guys came in front of me, in appearance and dialect he identified the Chechens. They sat down, I stood. One immediately jumped up and invited me to sit down. I say I won't sit. He did not sit down. I won't sit down, he answers until you sit down. Then the seats were vacated, I had to sit down, and he immediately sat down. He says that they educate us so that you can't sit if the eldest is standing. Is this not an example of the upbringing of the young generation? Moreover, domestic.
And finally, my thoughts on possible fertility support. Pension, and more broadly - fiscal policy should aim not only to collect money from the population and business, but also to stimulate processes that are beneficial for society and the state, in particular demographic ones.
It is no secret that families with children, and especially large families, face considerable difficulties. If there is no free grandmother, the mother sits at home with the children, does not work, the father plows several jobs in order to somehow make ends meet. Mom, when she attaches children to school and kindergarten, goes to such work, which will allow more time to devote to her family. Naturally, we cannot talk about any successful career. It is more difficult to earn a substantial pension for large children than for small children. All youth they have to materially limit themselves.
I propose: let the bulk of the pension be formed as it is now. But to provide that part of the pension depended on the amount of income to the pension fund from the children of the pensioner. The result is this: the more children you have and the higher their "white" income, the better and calmer you will live in old age. There will be an incentive for young people to give birth to children, to educate and educate them properly. People will try to get an official salary, because not only their future pension depends on this, but also the income of their mother and father. For parents of military personnel and civil servants whose salaries do not pay deductions to the pension fund, also provide for payments depending on the size of the income of their children. Parents of children with disabilities who have raised them in good faith should also be encouraged. Marginal parents, even those with many children who have raised idle parasites, alcoholics, and criminals, respectively, will not receive additional income in old age.
It is worth considering the return of the childless tax as it was in the Union. Only childless citizens should pay it, not from the age of 18, but, for example, from the age of 25 in order to be able to learn and without delaying to start a family. All proceeds from this tax should be targeted to support families with children.
The European way of putting off giving birth to children or abandoning children is not for us. The ancestors created the largest country for us, we must pass it on to our, and not foreign, descendants. As the Moscow princes said: "So that the candle does not die out!"