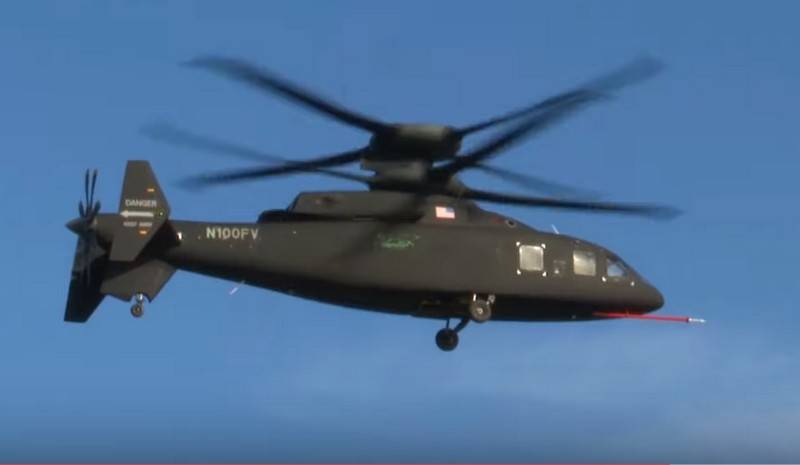 The promising multi-purpose high-speed helicopter SB> 1 Defiant, developed by a consortium of companies Sikorsky and Boeing, made its first flight at a speed of more than 100 knots (185 kilometers per hour). The tests took place at the airport of the American company Sikorsky in West Palm Beach (Florida). A video of these tests on his YouTube page was posted by Boeing.
As the developers explained, accelerating a helicopter to a speed of over 100 knots is one of the most important marks when testing the latest high-speed helicopters. At the next stage of testing, which took place on January 13, 2020, the helicopter not only accelerated faster than 100 knots, but also he performed a series of turns with a roll of 30 degrees. The tests are recognized as successful.
The creation of SB> 1 is carried out on a competitive basis as part of the US Army's helicopter development program of a new concept for creating a family of promising army vehicles
aviation
. The first prototype demonstrator built SB> 1 was shown on December 26, 2018.
According to the requirements of the US Army, the new helicopter must transport 12 fully equipped infantrymen with a cruising speed of at least 230 nodes (about 428 km / h) to a distance of at least 229 nautical miles (424 km). The program provides for the creation of five types of new helicopters or vertical take-off and landing aircraft to replace the entire fleet of US Army helicopters (OH-58, AH-64, UH-60, CH-47), starting around 2030-2035.
The SB> 1 helicopter uses a new carrier circuit developed by Sikorsky, combining coaxial propellers of opposite rotation with a tail pusher propeller driven from the rotor gearbox. This scheme was worked out on the demonstrator of the 2015-ton S-5 Raider helicopter tested since May of the 97, which has a "passport" maximum speed of 444 km / h and cruising speed - 407 km / h.
The maximum take-off weight of SB> 1 is declared at 32000 pounds (14515 kg), capacity - up to 18 people. The helicopter is equipped with modified Honeywell T55 turboshaft engines with a take-off power of approximately 4000 hp, cruising speed - 460 km / h.
The SB> 1 Sikorsky and Boeing competitor in the replacement program of the US Army helicopter fleet is the V-280 Valor convertoplane of the Bell and Lockheed Martin consortium, the prototype of which passes flight tests from December 18 of 2017.