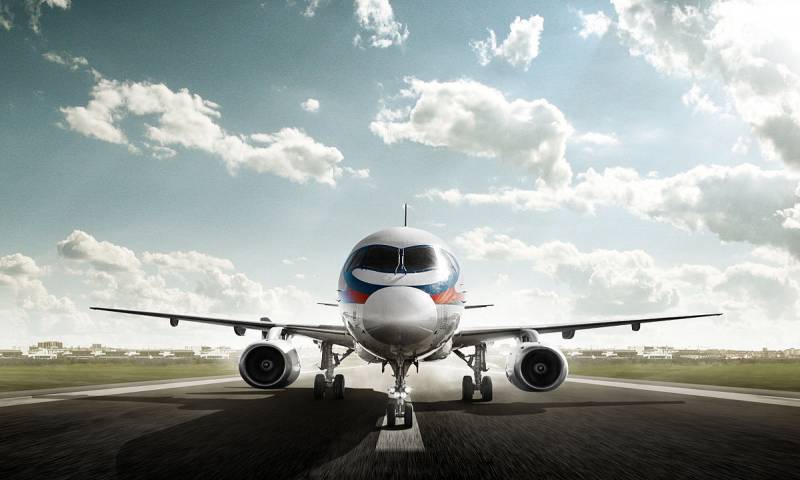 Russia slowly but surely continues to restore the power and capabilities of civil
aviation
. In this regard, 2019 turned out to be quite successful, although not without some problems.
Figures of stingy statistics indicate that air traffic is growing in Russia. Fly more and more often: in 2019, air traffic reached a record high of 1,83 million flights. The total number of flights over the past year increased by 15,6%, with more than half of them being serviced by Russian air traffic controllers. High rates of international transit through Russian airways remain.
But these are mean numbers, but what is behind them?
The most impressive event of the year was the landing of an Airbus A321 aircraft with 226 passengers on a cornfield in the Moscow Region on August 15, 2019. The crew under the command of Damir Yusupov demonstrated miracles of endurance, and his pilots demonstrated impressive skill, showing that not everyone with the training of civilian pilots was as bad as the media assured us over the years.
Russian civil aviation continued to update its fleet. Unfortunately, so far a significant part of the liners used are foreign-made cars. So, 2019 airliners were delivered to Russia from abroad in 106, including 46 from Boeing and Airbus plants. As a result, in the Russian fleet, which now has 1024 aircraft, 73,5% falls on foreign aircraft. Of the remaining 26,5% of domestic aircraft, half are machines that entered into service in Soviet times.
Dependence on foreign manufacturers and obsolescence of the fleet are two of the most important problems, which, unfortunately, are not resolved as quickly as we would like. After all, the aviation industry does not exist by itself, and even if our aircraft designers offer new models of aircraft, they are faced with insufficient funding, the lack of domestic materials and equipment, especially when it comes to electronics. For example, the SSJ100 engine is produced in conjunction with a French company. That is, one can talk about the Superjet as a completely domestic aircraft only very conditionally.
Nevertheless, the Russian aviation industry expects in the first half of the 2020s to begin supplying two aircraft - the Il-114-300 and Il-96-400M. In 2020, both prototypes will have to pass tests, and then, possibly, mass production of new air cars will begin. If there are no obstacles, the appearance of two new aircraft will be the next great success of Russian aviation after the creation and entry into serial production of the SSJ100.
Among other problems of civil aviation, many experts highlight the ongoing personnel crisis associated with a general decrease in the level of training of flight personnel. And although pilots like Damir Yusupov make us believe that not everything is lost, we must not forget that many experienced pilots leave for foreign airlines. In their place come people with less qualifications.
The state also has to solve the problem with small aircraft. For our country, the development of small aviation is of strategic importance, since vast territories in the Far East, Siberia, and the Far North can be covered only by air links. For thousands of our fellow citizens, air travel is the only hope and consumer goods to receive on time, and to use medical services.
By the way, in the USA there are 100 small aircraft per 76,5 thousand people, in Russia - only 3,1. At the same time, in the state of Alaska, small aircraft - 1714 per 100 thousand people, but in Russia, more than half of the territory is similar in climate to Alaska.
Now the country needs thousands of small aircraft in Siberia and the Far East, albeit with a capacity of up to 10 seats. To deliver a sick person to a medical institution, bring food and other goods, just connect remote villages with district centers. But airlines are not interested in such flights, as their commercial effect is minimal or even unprofitable.
The solution to the many problems facing Russian civil aviation appears to be possible only if its development becomes one of the priority tasks in the field of transport. Financing. organizational and legislative support - all this can be done only by the state, but will it cope with such large-scale problems in the foreseeable future?