Photo Credit: David Oliver



The British Army used mini-UAVs to detect VCA and clear T-Hawk routes during Operation Talisman in Afghanistan
In the public mind, drones or drones are assigned several roles. One of them consists in unhindered air strikes without exposing operators to danger. Their ability to detect and even destroy improvised explosive devices (IEDs) and unexploded ordnance is less well known.
Given that the devastating power of IEDs is used in different geographical regions, including Africa, Asia and South America, and post-conflict countries are tormented by abandoned, unmapped UXOs and mines, the ability to quickly deal with these threats without risking the personnel involved everywhere has become an important strategic need. One way to solve the problem may be to use small multi-rotor devices for vertical take-off and landing (GDP) to search for and destroy explosive objects.
The beginning was laid in Operation Talisman of the British Army in Afghanistan, during which a complex of systems was used to clear routes, detect and destroy IEDs and explosive traps, and clear paths for subsequent vehicles. One such system was a Honeywell T-Hawk mini UAV with a 45-minute flight duration. He conducted surveillance for transport convoys and reconnoitered the route, and its air currents could carry sand away from the suspicious IED lying in front of the path.
The Talisman operation became a kind of incentive for the London-based company SteelRock Technologies (SRT), which, in collaboration with Richmond Defense Systems (RDS), developed a UAV-based explosive ordnance disposal system under the designation SR1 Protector, capable of neutralizing a variety of IEDs and mines, as with air and from the earth. Designed to deal with the growing threat of IEDs, this system is equipped with a target load consisting of an advanced thermal imaging optoelectronic camera and a 40mm recoilless disposal device with an encoded fire control system.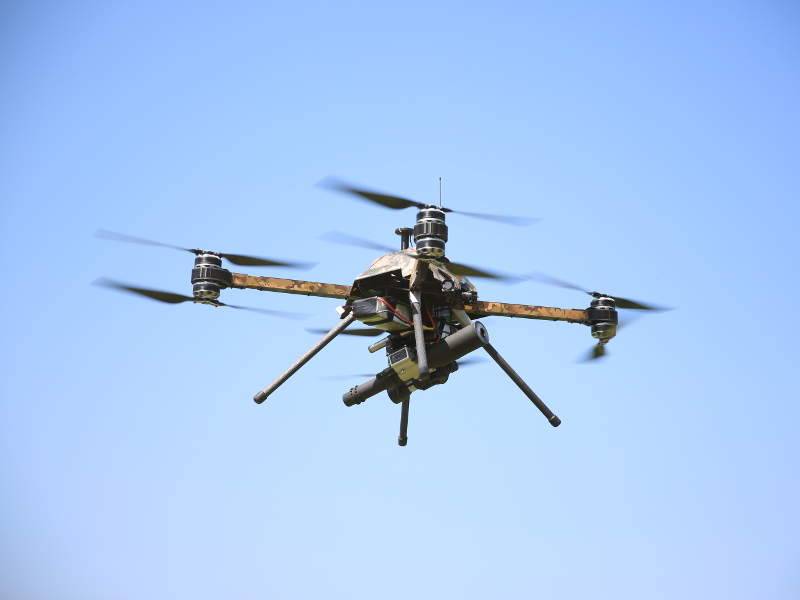 Photo: SteelRock Technologies
SteelRock's SR1 Protector Drone Designed to Combat IED
The rotorcraft platform is based on the X8 KDE Direct system, which has brushless motors in the corners that rotate two screws of opposite rotation. Drone SR1 has a maximum speed of 100 km / h, the maximum range of the data channel is 150 km from the base station, they can remain in the air with a load of 50 kg for two 2 hours. In a series of tests at SteelRock's South Wales test site, the Protector system successfully neutralized IEDs on the ground and in the air with its disinfection device.
A similar VCA neutralization system is being developed by ST Engineering in Singapore as a STINGER complex (Stinger Intelligent Network Gun Equipped Robotics). The system is being developed as part of ST Engineering's Future Soldier Solution and is a quadrocopter armed with the world's lightest 5,56 mm Ultramax U100 Mk.8 machine gun weighing 6,8 kg with a constant recoil system on a biaxial universal damping hinge, which allows from a drone fire in automatic mode with fairly high accuracy at a range of up to 300 meters. STINGER can recover between shots in less than 1,5 seconds. It can carry 100 light polymer cartridges of 5,56 mm caliber, the system is also able to accompany the target in automatic mode, using an advanced fire control system.
Florida's Duke Robotics has also developed a fully robotic weapon system integrated into the aircraft. TIKAD uses a unique stabilization and recoil solution
weapons
. TIKAD is equipped with a light gyro-stabilized electromagnetic suspension with 6 degrees of freedom, which is able to accept and stabilize the target load, weighing three times its own weight. The TIKAD device weighs 50 kg, can carry a target load of 9 kg, which may include an M4 carbine, an SR25 semi-automatic sniper rifle or a 40 mm grenade launcher. Although created as an unmanned weapon system for use against terrorist groups and corresponding risk reduction for deployed ground forces, it can be used to neutralize IEDs or mines. By the way, the TIKAD drone was purchased by the Israeli army.
Unmanned
aviation
complexes (LHC) are very well suited for detecting unexploded ordnance in large areas or in inaccessible areas. Inspection and detection of NBP is performed using various magnetometers, for example, a digital flux-gate magnetometer, which is a three-component, high-precision and low-noise vector device. During the flight, the UAV is held at a height of about one to three meters, using a laser sensor in order to obtain accurate results with high resolution. All flight data, such as speed, altitude and location, are recorded and can be reproduced in order to improve the quality of analysis of the survey. If the site survey requires flying at low altitudes in order to ensure the necessary accuracy and resolution, then drones with several rotors are used. The weight of the drone with a magnetometer may be less than 4,5 kg.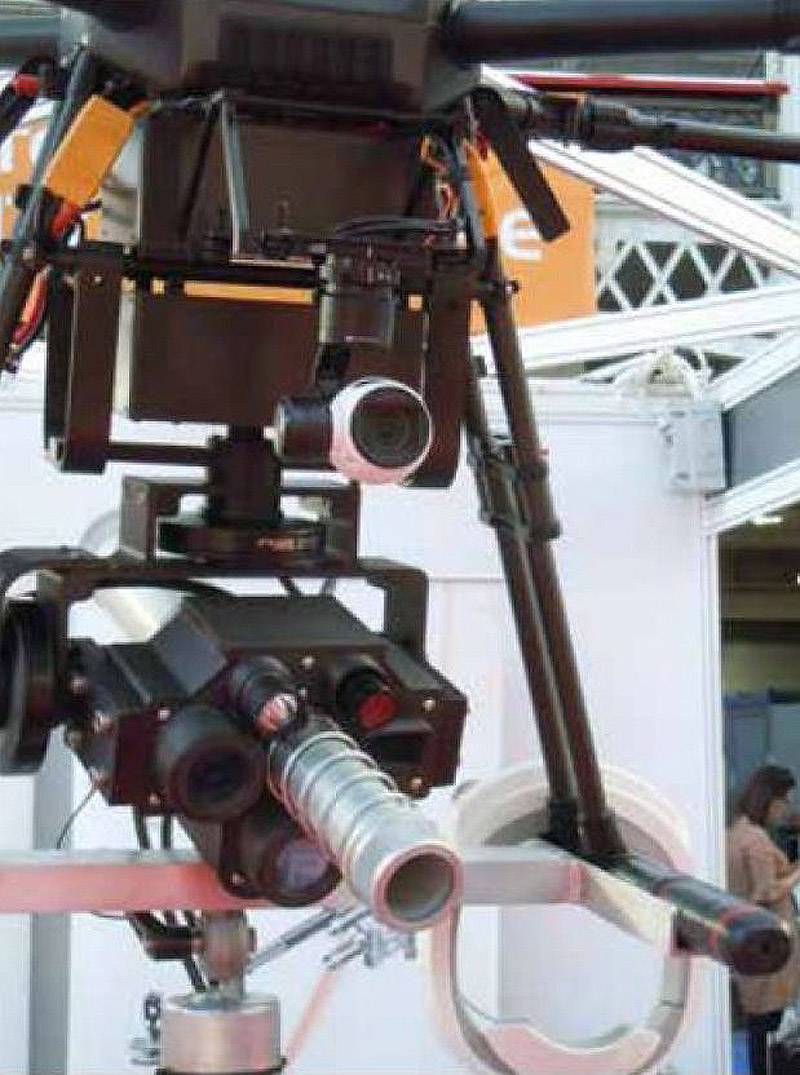 A recoilless 40 mm RDS disinfection device is installed on the SR1 UAV
Recently, more and more often UAVs have installed radars with synthesis of antenna aperture (SAR) (Eng., Synthetic Aperture Radar - SAR), which with good accuracy can detect buried suspicious objects, for example, explosive objects; in the vast majority of cases, these are anti-personnel mines, NBPs, as well as the threats of modern times - IEDs. However, the complexity of this application requires new technologies and new system concepts for SAR. A recent study by the German aerospace center clearly showed that a polymetric, multistatic (with one transmitting and several receiving antennas), polygonal and multichannel PCA system, known in English terminology as P3M-SAR, can provide sufficient spatial resolution, reliable suppression of passive interference and is capable of detecting buried objects at a depth of up to 20 centimeters from a distance of several meters.
During testing, the P3M-SAR system installed on the drone, called TIRAMI-SAR, showed excellent detection capabilities in several different scenarios simulating various environmental conditions and objects, including small plastic mines, for example, PFM-1 / PRB-M35, or pressure wooden straps for the VCA. In addition, past experiments using inverse SAR technology have shown that high spatial resolution and full determination of the azimuthal direction allows the identification of such artificial objects, such as mines, in the SAR image due to their spatial effective dispersion area.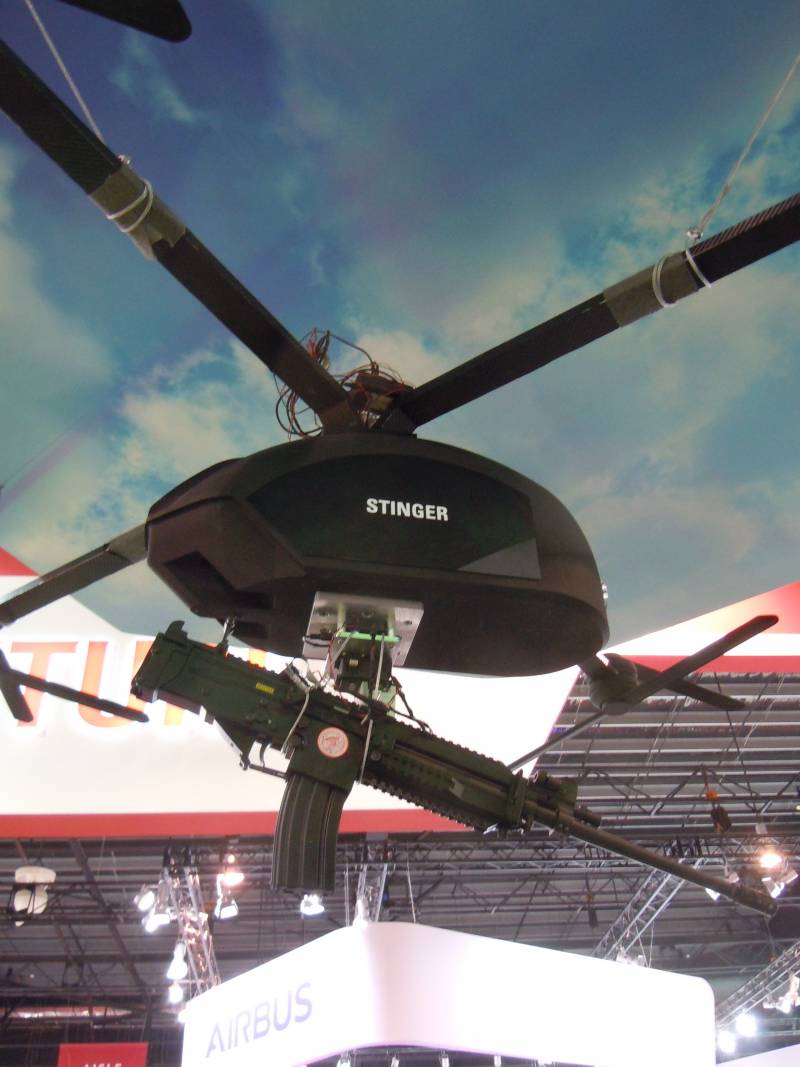 Photo Credit: David Oliver
UAV Stinger from ST Engineering, armed with a 5,56 mm Ultramax U100 MK 8 machine gun
Currently, due to the almost arbitrary UAV trajectory, it is possible to create corresponding images from SARs of the P3M-SAR type and simultaneously generate additional 3D images in order to effectively suppress interference. This synergy can lead to a system with advanced detection and identification capabilities for buried objects. There are two main operating modes: detection mode, which is based on a direct flight path along the study area using a multistatic and multi-channel antenna array mounted on a UAV; and an identification mode with a rather circular or spiral trajectory over a given area in order to study the zone with higher spatial resolution and perform tomographic (layer-by-layer) scanning.
UAVs can operate independently and in areas with difficult access, in most scenarios they can fly almost unlimited directly over hazardous areas. In order to obtain a more advanced system, several drones can be used to create additional very high bistatic or multi-static angles of incidence of radio waves, which further expands the detection capabilities of explosive objects.
Giobal ​​UAV Technologies, an American company, recently received contracts from two customers from the United States to survey the area in order to detect NBP. One of the shootings was done by Pioneer Aerial Surveys, a Global UAV division that had previously searched for NBP in Pearl Harbor. In NBP search projects, the UAV-MAG drone-based survey technology is used that the company uses in geophysical and geodetic surveys. UAV-MAG technology uses the GSMP-35U ultralight magnetometer from Gem Systems. Using a UAV, Pioneer Aerial can carry out autonomous aerial photography in ultra-high resolution, including at low altitudes, which makes it possible to detect NBP.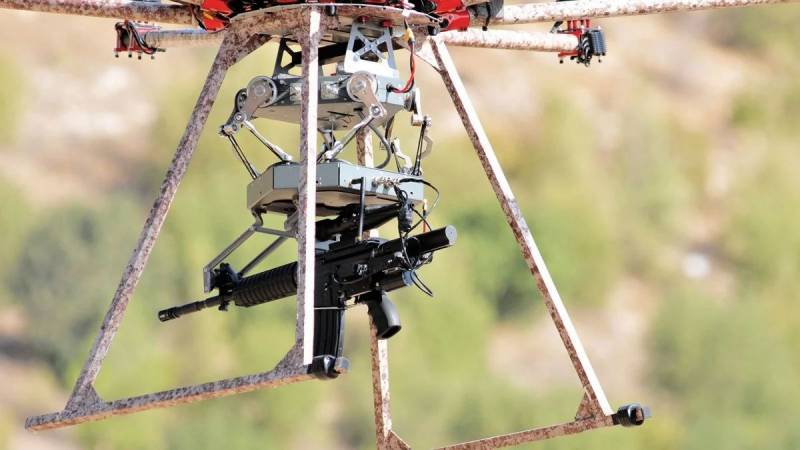 Photo: Duke Robotics
Duke Robotics multi-rotor UAV TIKAD is armed with a gyro-stabilized submachine gun
Organizations such as the US Army Corps of Engineers, for example, require that innovative filming technologies be included with applications for draft solutions for the search for air defense. According to a representative of Global UAV Technologies, "The UAV-MAG survey technology that we are developing confirms its functional flexibility and reliability. Pioneer Aerial quickly gained a reputation as one of the world leaders in geophysical drone surveying. The technology for detecting and aerial photographing of NBP is developing quite rapidly, more and more innovative solutions appear in this area, which contributes to an increase in interest in our services and products. "
Afghanistan seems to be the country that suffers the most from the double threat of IEDs and NBPs. Two brothers from this country have developed a legal mine clearing device developed as part of a global project called Mine Kafon (MKD). MKD, based in the Netherlands, is developing a range of mine clearance solutions for a wide range of affected post-conflict areas from explosive ordnance using breakthrough technologies that could enable mine clearance to be faster, safer, cheaper and easier.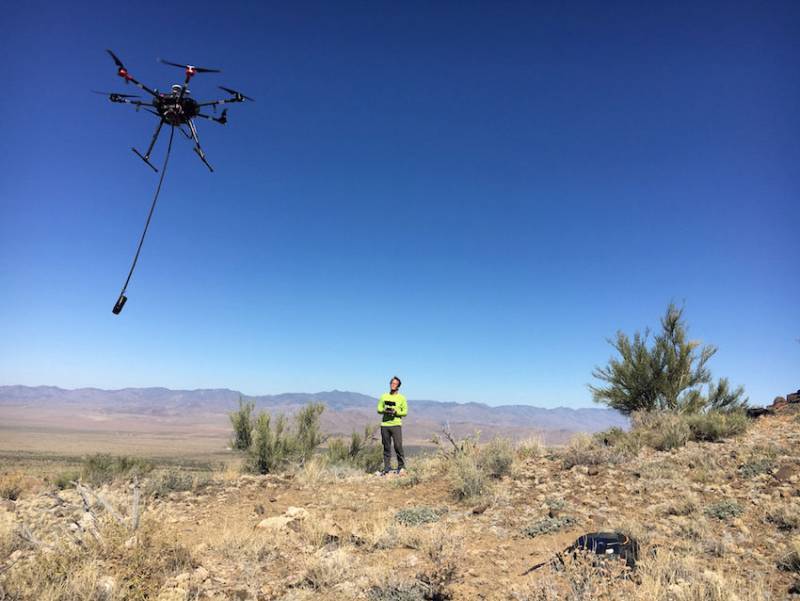 Photo: Pioneer Aerial Surveys Ltd
Pioneer Aerial UAV equipped with GSMP-35U ultralight magnetometer, which is used to detect NBP
Former war zones are littered with millions of mines and other explosive objects, and these "hidden killers" maim and kill many civilians every day. In addition, these mines also constitute a major obstacle to the country's economic and social development after the conflict. Inspecting and clearing these areas from NBP is still expensive and difficult due to problems associated with the type of terrain and many other factors.
MKD has designed several multi-rotor UAVs with GDP to combat NBP. The small and inexpensive micro-UAV Vento for aerial photography and mapping is available to those structures that most need it, including non-governmental organizations. The simple functional design of this UAV simplifies maintenance and repair, and the case printed on a 3D printer simplifies production, which accordingly affects its cost. Hazardous areas are identified by viewing video from a camera with high resolution and high magnification. Next, the user on a digital map identifies pits or funnels, as well as suspicious violations of the soil, after which a 3D map of the area of ​​interest is created using the offline mapping mode.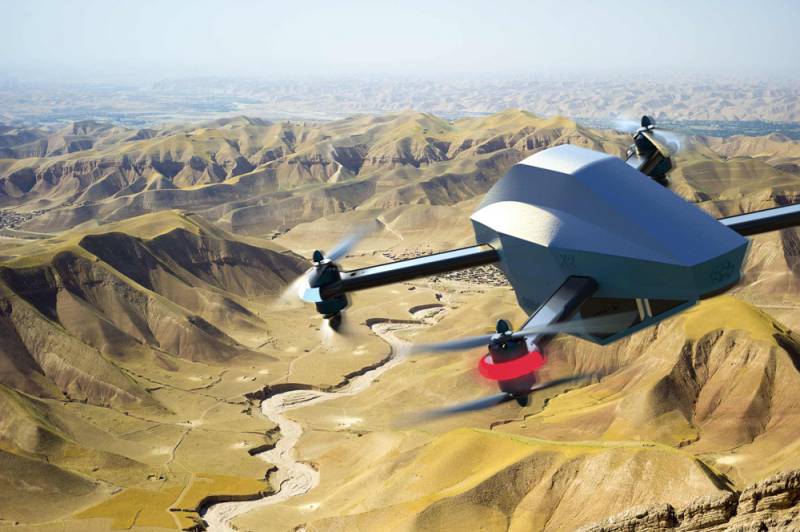 Designed & created by Massoud Hassani
Mine Kafon's Destiny Long Range UAV (MFD) is designed to map hazardous areas such as Afghanistan
This map can then be used to further inspect the terrain and possibly to identify hazardous areas using computer visualization algorithms. MKD's Destiny micro UAV is equipped with a x10 high-resolution camera mounted on a three-axis gyro-stabilized electromagnetic suspension. It is capable of flying to a range of up to 5 km, while maintaining its exact location using RTK technology (real-time kinematic satellite navigation GPS system). The compact and durable Destiny drone, capable of operating in difficult weather conditions, is made of durable carbon fiber, which has reduced weight and increased flight time up to one hour. Due to the fact that the Destiny drone is equipped with eight electric motors, when one or two engines fail, it is able to continue flying.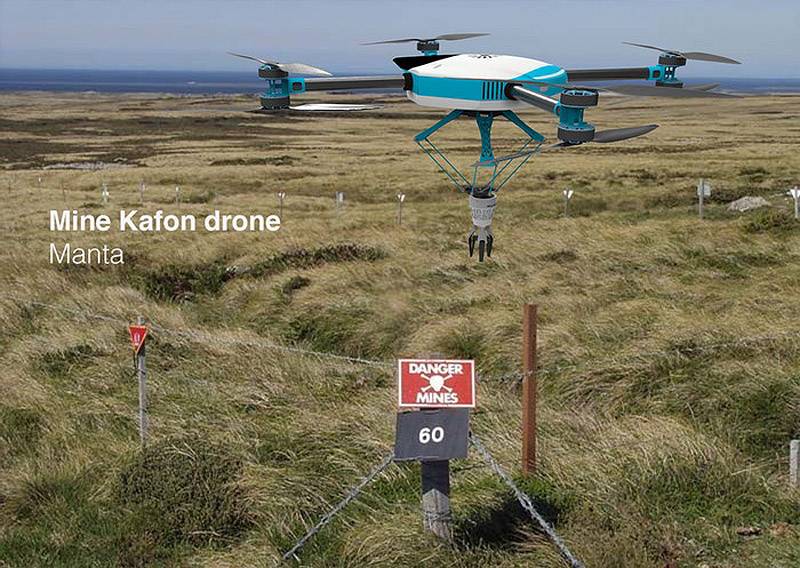 Manta UAV can put a subversive charge next to the NBP, which can then be detonated remotely
Based on 3D maps created by cartographic drones, a heavy autonomous Manta MKD UAV flies over a given area, methodically "looking through" every meter of it. It is capable of carrying a variety of detection sensors, including a metal detector, a subsurface sensing radar device, and a sample collection device for chemical analysis. In order to obtain information about the exact location, data from the sensors is processed using data combining algorithms. Depending on the surrounding area and identification data, an explosive object is either detonated using a remotely controlled explosive device carried by a drone, or it is rendered harmless by a sapper. Eight powerful electric motors and coaxial propellers allow the Manta to carry mine clearing robots and sensors with a total weight of up to 30 kg. Eight 6S batteries (installed in smartphones) provide a maximum flight time of 60 minutes. The flexible Manta platform, which can be "reflashed" software in several seconds to perform various tasks, is compatible with all MKD mine drones, including Destiny weighing 6,6 kg. The Manta UAV is compatible with the Mine Kafon GCS ground control station, whose software, in addition to the functionality common to the entire UAV line of this company, also provides specific interfaces for each autonomous system.