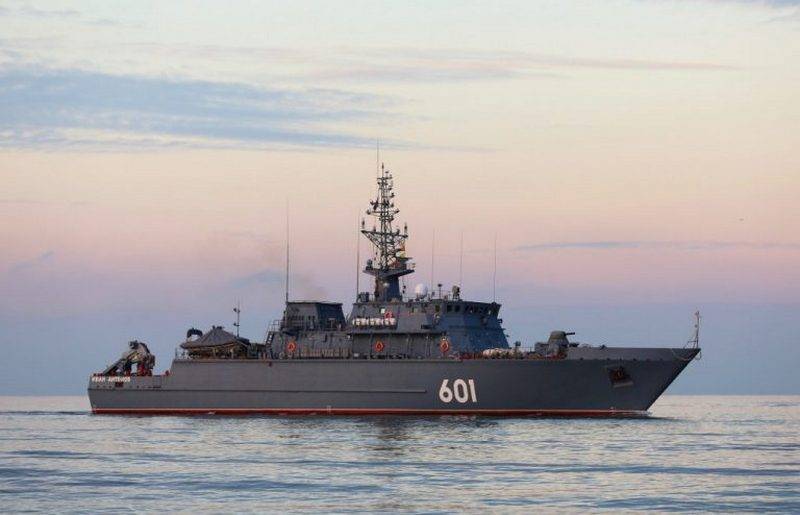 The new Russian mine defense ship "Ivan Antonov" on Friday, passing the Black Sea straits, entered the waters of the Mediterranean Sea, where it will soon join the permanent Russian squadron. The passage of the ship through the straits is reported by Istanbul information portals.
For the ship's crew, this is the first transition to the distant sea zone after being admitted to the Black Sea
fleet
- the press service of the Black Sea Fleet.
Together with a minesweeper to the Mediterranean Sea on Friday, the rescue tugboat of the Black Sea Fleet "Professor Nikolai Muru" also proceeded.
The minesweeper "Ivan Antonov" is the second serial anti-mine ship of the new project 12700 code "Alexandrite". The contract for its construction was signed with the Ministry of Defense of the Russian Federation in April 2014. It was laid at the Sredne-Nevsky Shipyard on January 25, 2017, launched on April 25, 2018. Introduced into the fleet in January of this year.
The 12700 project was developed by the Almaz Central Marine Design Bureau for the Russian Navy. Ships of this series have a unique hull made of monolithic fiberglass, formed by vacuum infusion. Ships are designed to deal with modern types of mines both in the waters and on the ground. They are able to use the latest sonar stations, located both on the ship itself and on remote-controlled and autonomous underwater vehicles, and have an automated mine action control system. Able to use traditional trawl weapons.
Displacement - 890 tons. The ship is 62 meters long and 10 meters wide. Full speed - 16 nodes. Crew - 44 person.