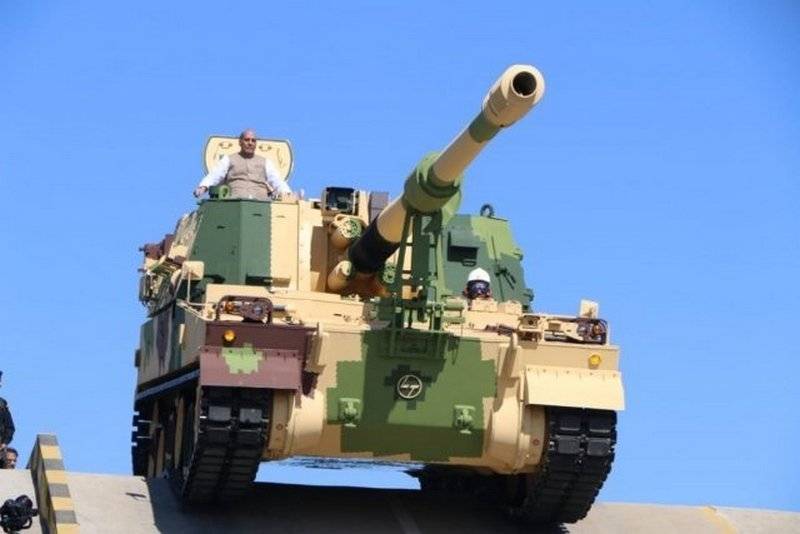 The Indian ground forces will soon receive the Indian version of the South Korean self-propelled howitzer K9 Thunder. As reported
"Warspot"
citing defenseworld.net, the first instances of the K9 Vajra-T howitzer were introduced in India.
In India, the ceremony of the first rolling out assembled at the Indian enterprise Larsen & Toubro self-propelled guns K9 Vajra-T of domestic assembly. Attending the ceremony, Indian Defense Minister Rajnat Singh not only officially introduced the new howitzer, but also personally drove in one of the specimens at the test site.
It is noted that the plant, where new self-propelled guns are manufactured, was opened a year ago specifically for the assembly of howitzers.
In January 2011, a tender was announced providing for the supply of self-propelled tracked howitzers to the Indian Army. Four potential sellers participated in it - BEML (Bharat Earth Movers Ltd) in partnership with Slovak Konstrukha, Tata Power, Larsen & Tubro / Hanva Techwin (formerly known as Samsung Techwin) and Rosoboronexport. The first two companies dropped out of the tender before the start of the tests, which were carried out during 2013-2014. In the final, Larsen & Tubro / Hanva Techwin competed with the K-9 Thunder and Rosoboronexport with the version of SG 155S52 Msta-S upgraded to UVZ to the standard 2 mm / 19, located on the main combat chassis
tank
T-72.
Larsen & Tubro bypassed Russia thanks to a favorable price offer, becoming the only bidder for the supply. It was approved by the Security Committee of the Government of India in March 2017. In April, L&T announced it had signed a contract with Hanwa Techwin for the production of the K-9 Vajra-T.
The Indian version of the K-9 Thunder has a mass of 47 tons. The howitzer is adapted to desert conditions. The basic modification is equipped with an MTU MT881 Ka-500 V8 engine with a capacity of 1000 hp, an Allison transmission and is able to reach a maximum speed of 67 km / h, a fuel range of 360 km, and an ammunition load of 48 ammunition. The calculation of the installation is 5 people, including the commander, driver, gunner, assistant gunner and loader. The self-propelled gun is capable of firing three shells within 15 seconds, which will hit the target simultaneously (firing mode MRSI). The maximum combat rate of fire is 6-8 rds / min. within 3 min., standard - 2-3 rds / min. In one hour. The firing range of self-propelled guns is 8-40 km. The body of steel armor protects against armor-piercing 14,5 mm ammunition and fragments of 152 mm ammunition.
The 155-mm / 52 self-propelled howitzer K9 Thunder (Thunder) was developed and manufactured by the South Korean association Samsung Techwin (now Hanwha Land Systems). In total, from 1999 to 2014, the South Korean army received 1136 self-propelled guns K9. Since 2004, the system has also been produced under license in Turkey (as T-155 Firtina).