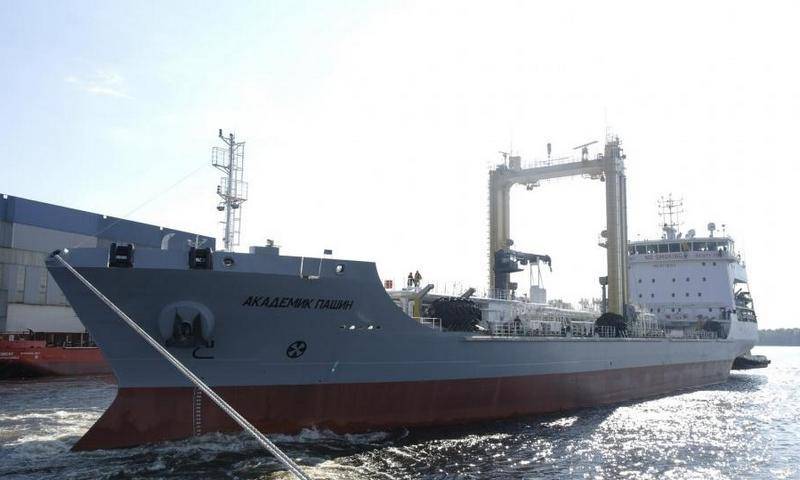 Project 23130 medium sea tanker "Akademik Pashin" will be introduced into the Northern
fleet
January 21 this year. According to the press service of the Ministry of Defense, the ceremony of raising the flag of the auxiliary fleet of the Navy will be held in Severomorsk.
According to the report, the crew of the ship, the command of the Northern Fleet and invited guests will take part in the ceremony.
As previously reported, last year the new marine tanker Akademik Pashin successfully passed the full test program in the Barents Sea. At certain stages, fleet warships took part in the test of the tanker, including the Peter the Great heavy nuclear missile cruiser and the Admiral of the Fleet of the Soviet Union Gorshkov frigate.
The construction of the Akademik Pashin medium-sized offshore supply tanker has been underway since April 26, 2014 under a contract with the Russian military. The ship is intended for the Northern Fleet. The tanker was withdrawn from the boathouse of the plant on March 18, 2016 and launched on May 26, 2016. Deadweight at maximum load of about 9000 tons. The length is the largest 130 meters, the largest width is about 21 meters, the maximum draft is about 7 meters. Maximum speed 16 knots. Autonomy of 60 days. The crew of 24 people. Cruising range is 9000 nautical miles, and one of the main tasks is escorting aircraft carriers.
Tanker of project 23130 is a single-deck vessel with a double hull in the cargo area
tanks
able to walk in the northern latitudes. It can transfer or receive several types of liquid cargo without mooring to another vessel or ship: diesel fuel, fuel oil, kerosene, oil, water, and also accept, store, transport and transfer dry goods (food, skipper and technical property) using the traverse system transfer of goods to the sea. It can be used to eliminate emergency oil and oil product spills.
The vessel is named in honor of Valentin Mikhailovich Pashin, Hero of Russia, an outstanding shipbuilding engineer, full member of the Russian Academy of Sciences, long-term director of the Krylov State Scientific Center.