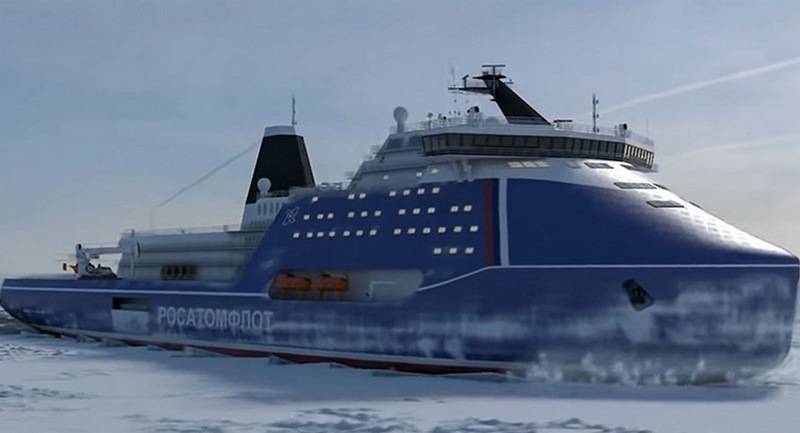 Project image of the large linear atomic icebreaker of project 10510 "Leader"
The Russian government approved the allocation of funds for the construction of the lead large-scale linear nuclear icebreaker of the new generation of project 10510 code "Leader". The decree was signed by Dmitry Medvedev before announcing his resignation.
The Decree of the Government of the Russian Federation No. 11 "On the implementation of budget investments in the construction of the lead nuclear icebreaker of project 10510" Leader ", signed by Medvedev, provides for the allocation of 2020 billion rubles from the federal budget for the construction of the new generation lead icebreaker from 2027 to 127,576979.
As previously reported, the latest Russian icebreakers of the project 10510 "Leader" will be designed for year-round escort of large-tonnage cargo ships along the Northern Sea Route. The construction of all three vessels will be carried out at the Zvezda Far Eastern shipbuilding complex in cooperation with Russian shipbuilders, including the Baltic Shipyard, where universal icebreakers of Project 22220 are being built today. Subcontractors will be engaged in the production of individual components and assemblies.
It is assumed that the construction of the first icebreaker "Leader" will begin in 2020. The laying of the next two icebreakers was planned for 2023, the sources of their financing have not yet been determined.
According to the project, the total displacement of the Leader will be 71,4 thousand tons with a length of 209 meters, a width of 47,7 meters and a height of 20,3 meters. The ship will receive two RITM-400 nuclear reactors with a capacity of 120 megawatts on propellers and a thermal capacity of 315 megawatts each.
According to estimates, the Leader icebreaker will be able to reach speeds of up to 24 knots in clean water and up to 12 knots on ice up to 2 meters thick. The maximum overcome ice thickness is 4 meters. The service life of such an icebreaker is designed for 40 years. The crew is 127 people. The autonomy of the icebreaker in terms of provisions will be 8 months.
The technical project for the atomic icebreaker of project 10510 was released in 2017, the developer is Iceberg Central Design Bureau (Petersburg).