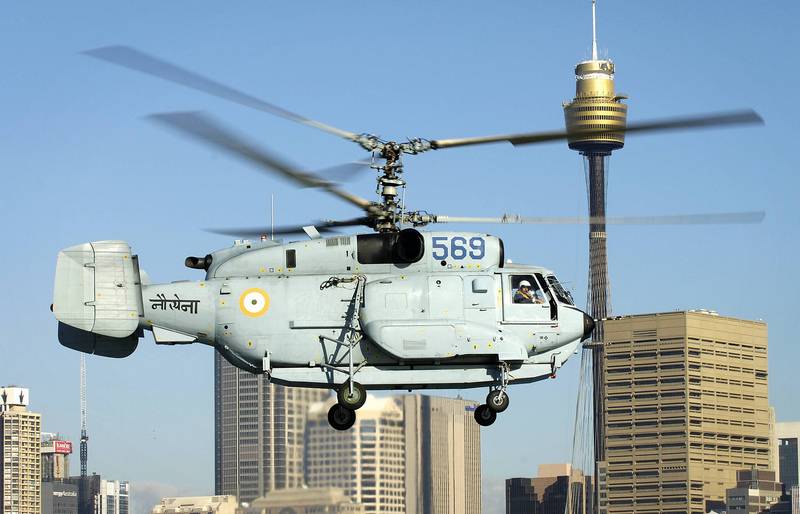 Naval helicopter of the radar patrol Ka-31 aviation The Indian Navy
The Indian naval forces have decided to reduce the number of additional Ka-31 helicopters purchased in Russia. According to the Indian newspaper The Economic Times, instead of a pre-announced batch of ten helicopters, the Indian Navy will purchase only six.
According to the publication, the reduction in the purchase of ship helicopters of the Ka-31 radar patrol is due to insufficient funding for the Indian
fleet
. Instead of the planned $ 7,654 billion, the Indian Navy will receive only $ 2020 billion in 5,815.
Earlier, the Indian fleet announced the conclusion in 2020 of a contract for the supply of ten additional Ka-31 radar patrol helicopters. To date, the Indian Navy has 14 Ka-31 helicopters received under two contracts concluded in 2001 and 2009. All helicopters are part of the 339th Squadron of Aviation of the Indian Navy (INAS 339 'Falcons'), deployed at the Hansa Air Base in Goa. India is the largest operator of these helicopters.
In addition to India, 9 Ka-31 helicopters were delivered to China for naval aviation of the PLA Navy in 2010-2012. The Russian Navy is armed with only two serial Ka-31R helicopters (red tail numbers "90" and "91"), delivered in 2012.
According to the bmpd blog, in addition to reducing the purchase of Russian helicopters, the Indian Navy reduces the number of prospective minesweepers planned for order from twelve to eight units, once again postpones its long-suffering program for the acquisition of four universal landing ships and reduces the purchase of additional Boeing P-8I Neptune base patrol aircraft from ten to six units.