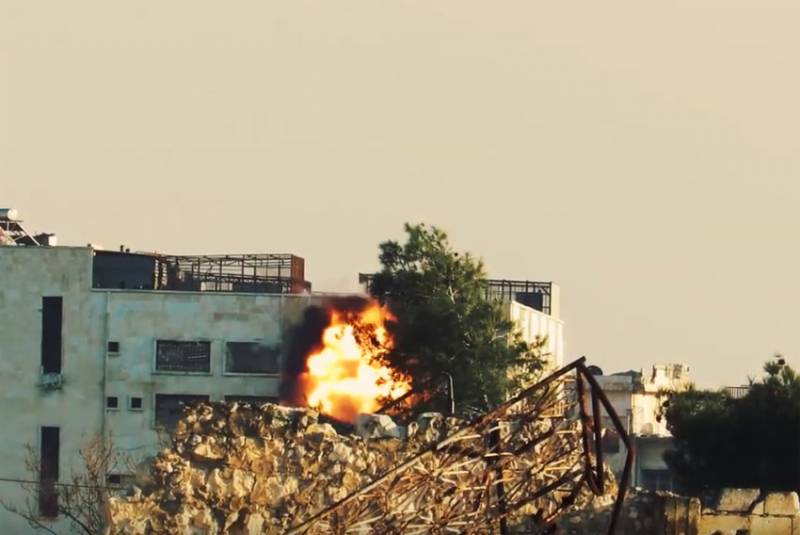 The militants of the so-called "Syrian National Army", which is actually a structure associated with the former Jebhat al-Nusra (* a terrorist organization banned in the Russian Federation), publish evidence of attacks on Syrian government forces' facilities and vehicles.
In a series of videos that militants post on the network, strikes using anti-tank missiles are demonstrated. Judging by the personnel, anti-tank systems are used.
Militants carry out attacks in various territories of Idlib province, the bulk of which continues to be under their control.
One of the published videos shows shots of ammunition released by the militants in the building in which the SAA positions were located. The signature to the video says that the blow fell on the position of the machine gunner of the Syrian army (machine gun caliber 14,5 mm).
In the caption for another video, militants report an attack on Assad's gangs. That is how terrorists try to characterize the government forces of the country.
When rockets hit the target behind the scenes, the sound of stormy delight is already familiar for such cases. In this case, we are talking about an attack on a car in the back of which there were people.
And in this video, allegedly, the shelling was carried out at the headquarters of the operation of Assad's troops. A missile enters a building on the balcony of which there are several people:
It should be noted that the so-called "Syrian National Army" (it is also the SNA, it is also the SSA) is supported by Ankara. Earlier, the Turkish authorities announced that they did not intend to withdraw military personnel from the "observation posts" of Idlib province. Behind this Turkish "observation posts" the militants take refuge, carrying out their periodic sorties and often even attempted offensives.
On the eve of the jihadists attempted to capture the village of Tal Hatra. The fighting in the area continues.