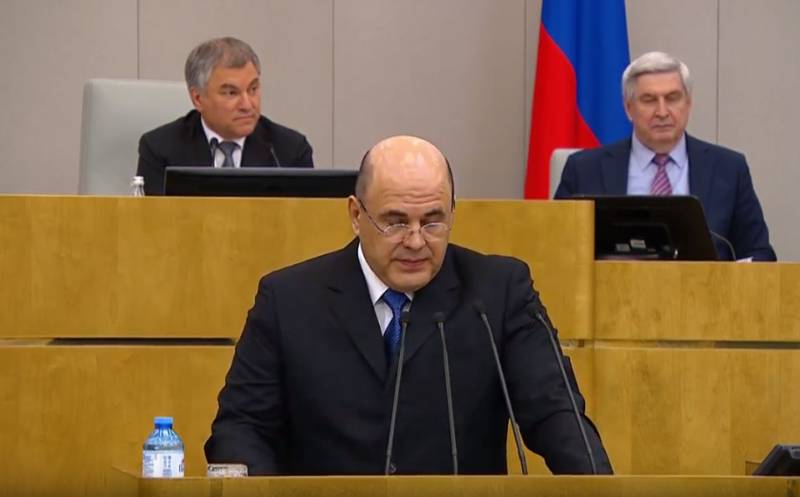 A few minutes ago, the lower house of the Russian parliament voted in a majority vote for the candidacy for the post of chairman of the Russian government. Recall that such a candidate was Mikhail Mishustin, who since 2010 served as head of the Federal Tax Service.
Voting on the candidacy of Mishustin did not end unanimously - with the following results: 383 deputies - "for", 41 decided to abstain. Abstaining are mainly representatives of the Communist Party faction. Apparently, such a "neutral" vote should be regarded as a kind of demarche of the "Communists" in connection with the statements by Mishustin that he will not review the pension reform and review the results of privatization.
None of the deputies voted against the candidacy.
Mishustin, who was "approved" by the State Duma as the head of the government of the Russian Federation, declared his priorities at the post he was to take. According to the ex-head of the Federal Tax Service, he will focus on the introduction of modern technologies in the work of the Cabinet, and is also ready to carry out a management reform. What exactly is this reform is not yet said.
It is also known that Mishustin already opposed the introduction of the so-called progressive tax scale, when the rich pay more (as a percentage) than the poor. Mishustin said that it is better to focus on targeted support for Russians in difficulty.
Mishustin:
Without high rates of economic development, social development in the country will certainly stall.
According to Mikhail Mishustin, in order to understand the vector of his future work, it is enough to carefully read the president's message to the Federal Assembly once again.
Mikhail Mishustin:
The message clearly stated: the main task is to increase the real incomes of citizens.