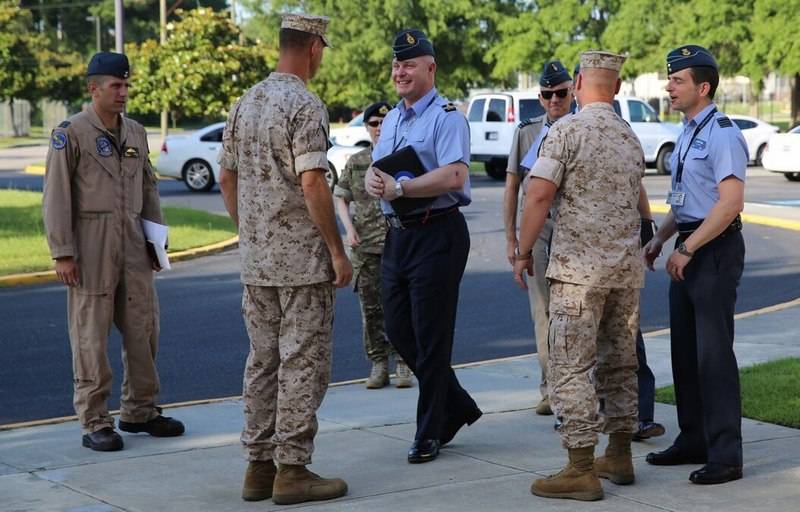 Vice marshal aviation Harvey Smith (center) at the US Marine Air Force Base
Another country will soon acquire its own Space Command. According to NPlus1 with reference to Defense News, the UK Department of Defense has embarked on the formation of a space command structure.
According to reports, the British Space Command will be led by Air Vice Marshal Harvey Smith, who has so far led the No. 1 Group, which is responsible for conducting air combat and striking at ground targets. This structure is subject to all combat aircraft of the British Air Force.
The UK Ministry of Defense explained that the reason for creating the space command was the need for a unified management of space programs and assets of the country, such as: the creation of Skynet 6 communications satellites, a project to develop radar stations for detecting ballistic missiles and their warheads, the concept of a GNSS satellite global positioning system, and reconnaissance satellites.
Initially, the staff of the new structure will include 25 military and civil servants. According to the plans of the British Ministry of Defense, the command will begin to function in February 2020, after the official appointment of Smith to the post of commander. The offices of the new command will be located in the building of the Ministry of Defense of Great Britain in Whitehall in London. To finance the new structure has already allocated 9,1 billion dollars for a period of 10 years.
The 23rd Royal Air Force squadron, which will serve as the British space force, has been transferred to the space forces command. There are no other details about the new structure.
Recall that Russia, the USA and France have their own space command. The creation of such a structure was seriously considered in Japan.