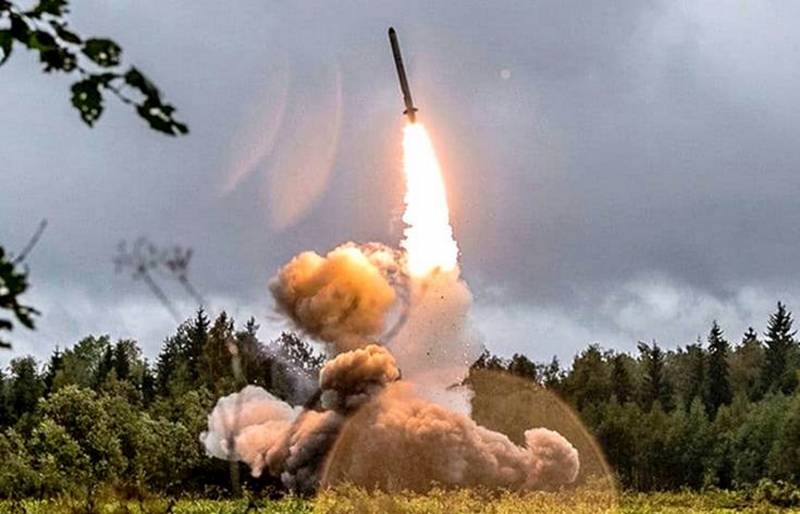 Countermeasures announced by NATO Secretary General Jens Stoltenberg on January 13, 2020, preparing to take promising, inconspicuous 9M720 Novator cruise missiles in response to integration into the OTRK 9K729 Iskander-M ammunition, were the subject of a thorough analysis of both domestic and foreign military experts and observers who are aware of the operational-strategic situation in the European conditional theater of operations, as well as the parameters of modern tactical missile systems and air defense systems at the disposal of the airborne forces and missile forces to and artillery of Russia, as well as the armies of the most technologically advanced member states of the North Atlantic Alliance.
The concept of a "defensive response" of the North Atlantic Alliance. What to consider?
Such a high interest in this
news
due to the fact that even against the backdrop of the withdrawal of the "founding link" of NATO (USA) from the Treaty on the Elimination of Intermediate and Shorter-Range Missiles, which previously controlled the number and limited the development and large-scale production of short and medium-range ballistic and cruise missiles, the list of countermeasures voiced by the NATO Secretary General the alliance in response to equipping Iskander-M with an advanced percussion instrument has a purely defensive character and does not have a single point on the immediate initiation of defense bubbled departments of Western European states develop programs promising means of air attack with the same rocket 9M729 parameters. In particular, it was only a question of "accelerating the implementation of existing projects of promising air defense missile defense systems, intensifying work in the field of designing conventional weapons, increasing the warning time by means of early warning radar systems, and also expanding the anti-ballistic potential of existing anti-ballistic systems.
It may seem to the wide-eyed eye of an ordinary observer or even a journalist who rarely plunge into the thorny process of studying the technological features of the use of modern tactical long-range cruise missiles and anti-aircraft missile systems that the above-described "response" of NATO to operational readiness of Iskander-M missiles 9M729 is not even capable of fending off the strike potential of the Russian Missile Forces and artillery in the European conventional theater of operations. In fact, everything is completely different.
It is known that tactical 9M729 long-range cruise missiles, which are modernized conceptual and constructive hybrids of 9M728 (R-500) and 3M14T / K Kaliber-NK / PL multi-purpose cruise missiles, have far from the most "high-torque" turbofan turbofan engines 50B ("Product 37-01") with a maximum thrust of about 450 kgf, which provides them with only a subsonic flight speed of 780–950 km / h on the marching and terminal sections of the flight path. As a result, the maximum available overload of the Novator cruise missiles during anti-aircraft maneuvers does not exceed 10-12 units. Poor maneuverability combined with low subsonic / transonic flight speed make Novators vulnerable to modern West European short-range and medium-range anti-aircraft missile systems VL-MICA and Land Ceptor. These mobile air defense systems have highly maneuverable anti-aircraft missile interceptors MICA-EM / IR and CAMM-ER, equipped with a gas-jet thrust vector deflection system that allows maneuvering with 50-60G overloads, due to which airborne objects can be intercepted with overloads of more than 25-30 units.
Where the Novator's 9M729 cruise missiles pose a big threat are anti-aircraft missile systems such as MEADS (a promising brainchild of the US-German company TVLS GmbH, developed under the Taktisches Luftverteidigungssystem program), Patriot PAC-3MSE and SAMP-T, the first of which is equipped with IRIS-T and MIM-104F PAC-3MSE anti-ballistic missiles, the second is equipped with MIM-104F PAC-3MSE anti-ballistic missiles, the third is equipped with Aster-15 and Aster-30 anti-aircraft missiles. The missiles of the MIM-104F and Aster families are equipped with an even more advanced control system based on gas-dynamic "belts" with pulsed transverse control engines, which provide lightning-fast transverse throws on a trajectory with overloads of 60-65G. The presence of active J- / Ka-band radar homing heads makes it possible to intercept low-altitude air attack tools (including Novators) even behind the radio horizon screen or over natural objects of the terrain. But there is an important nuance that does not play into the hands of the military calculations of the above air defense systems.
This is a small radar signature of tactical long-range cruise missiles 9M729 Novator. The wide use of composite and radar absorbing materials in the design of KR 9M729 airframes, coupled with the internal housing configuration of the TRDD-50B engines (according to the à la Caliber - JASSM-ER "scheme), reduces their effective reflective surface to 0,05-0,07 sq. m, which reduces the range of their direction finding by means of airborne AWACS systems (AN / APY-2/9 radars) by about 2-3 times in comparison with such cruise missiles as the X-55CM.
As a result, the relatively high probability of the aircraft issuing a radar patrol and guiding the E-2D and E-3C with timely targeting to the MEADS, Patriot PAC-3, and SAMP-T complexes for low-altitude Novators will only be maintained when NATO airborne radar converges with "Innovators" at a distance of no more than 120-150 km. Such a rapprochement will be practically impossible if SAMP-T or Patriot anti-aircraft missile batteries are deployed in the immediate vicinity of the airspace A2 / AD of the Russian Aerospace Forces teeming with MiG-31BM interceptors with long-range R-37M air-defense missiles, which pose a mortal threat NATO AWACS.
That is why, as one of the main subparagraphs of the "defensive response", NATO Stoltenberg announced an "increase in warning time". Apparently, we are talking about increasing the energy capabilities of airborne AWARS radars, which is already being implemented in a promising project of the Swedish company "Saab-AB", which provides for the development of an advanced aircraft radar equipped with "farsighted" and anti-jamming S-band radar "Saab Erieye" with with a range of target detection of the type "small-sized cruise missile" of the order of two to three hundred kilometers.