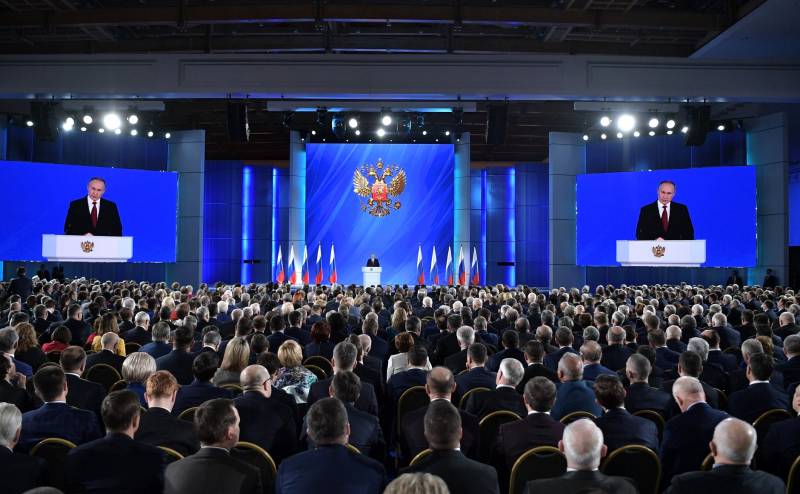 So another message was sent. The Federal Assembly seems to have adopted it, now let's see how it goes with the assimilation.
Not so long ago, I predicted that this message would contain many letters and little semantic load.
Russia, get ready to live very well!
Completely without pleasure, I state that, unfortunately, I was mistaken. Why "unfortunately", now I understand. I would like to be mistaken in something else, but ...
As usual, I will highlight Putin's quotes.
Well, and, in fact, the first quote, which may well be the last.
"I want to answer right away that there is no need to adopt a new Constitution. The potential of the 1993 Constitution has not been exhausted. At the same time, statements regarding the amendment of the Constitution have already been made. A number of constitutional changes must be tabled. "
Here. After that, you can calmly get up and disperse. The 1993 Constitution, which actually robbed the entire population of the country and gave the wealth of the subsoil to the hands of a handful of close oligarchs, has inexhaustible potential. There is, apparently, what else can be wrung out.
All that needs to be changed and brought up for discussion concerns exclusively who and how will continue to steer the country. Nothing interesting, although everything interesting has already been said.
There will be no return, all that was stolen will remain with those who. And with the rest they will decide the issue with handouts and concessions.
And yes, the ruble remains a slave to the dollar, and the Central Bank remains a slave to the Fed and the US Central Bank. In general, everything suits everyone there, we live-pan.
I will not repeat myself, just now another material will be released dedicated to this very robbery and demography, where everything can be viewed / read in detail. And we will go further.
I won't talk about demography because of the material already prepared; I'll note that, for some, it might be interesting for someone to extend the capital program. But the main problem is not that mother capital is given only after the birth of the second child, and not that it needs to be increased. The problem lies in a completely different plane, and the lump-sum payment of the capital, which can not be used for everything and not always, is not solved.
I can calmly predict only that this measure will have absolutely no effect on the birth rate increase. Those who wanted and, most importantly, could afford to give birth, did so without the capital from the state. Whoever does not want or cannot cannot lure anyone with candy.
"I propose providing free hot meals to all elementary school students from first to fourth grade. I propose to send funds from three sources: federal, regional and local. It is necessary to create the necessary infrastructure in schools. In those regions where there is technical readiness, hot meals should come from September 1, 2020. In the rest - from September 1, 2023. "
Bravo. Wonderful. Everything would be fine if it were not sad at the same time. Until last year, for example, in my city there was a school food factory, which was just dealing with this issue. In September last year, the plant was closed, cooks were fired to reduce, the equipment was dismantled, sold out, the building was sold at a wholesale base.
Perhaps somewhere with this is better, of course, the initiative is not bad, but now merchants who "won" tenders in the "fair fight" will come to the place of the former plant (God forbid) and they will start to poison children.
True, the idea is good, because it comes from the USSR, but that I'll be convinced by the Russian execution (and along with the idea a certain number of students), I am sure of this by 146%.
"What we have been able to do in the health care system shows that if we set goals, we are able to achieve results."
Oh yeah. We see the results. Completely destroyed rural medicine, almost completely destroyed medicine in cities, children's medicine in a coma. If this was the goal - yes, the result is obvious.
"By 2024, all levels of healthcare should be provided by specialists, and primary care should be given priority. 70% of training places will be targeted in the specialty "medical business", 75% - in the direction of "pediatrics". In the most scarce areas of residency - 100%. At the same time, there should be guarantees of employment for future graduates. Targeted training must also be provided for federal centers. "
I am ready to argue for anything: these words will remain words. Nothing will be done by 2024, simply because so many doctors do not have time to train / learn.
We'll talk about doctors again in the very near future, there are so many real pain points burning that it's just taking the hell out of it. In fact, the Zemsky Doctor program failed, no one especially went to the village even for a million, on the contrary, the total migration of doctors towards larger cities began.
Let's see, by the way, what happens with the Zemsky Teacher program. By the way, I am announcing a material on education and driving an inclusive education system into it. There will also be many interesting things about which, most likely, the president is not even aware.
However, there are messages and really inspiring moments.
"I also remind you that medical and educational organizations are exempt from income tax. However, this benefit ends on January 1, 2020. I propose not only to make it perpetual, but also to extend it to regional and municipal museums, theaters and libraries. "
It's quite an initiative. Stifling taxes on the "profits" of museums and libraries is not just stupidity. Although a centrifuge cannot be stupid, it is such a state. But to rid the cultural centers of the tax burden is quite reasonable and will benefit the development of the already few surviving centers of culture and education.
"For the first time in
stories
our reserves fully cover the external debt of both the state, it is in our very small and commercial sectors. And this money works, including the full amount of revenues from the placement of funds of the National Welfare Fund to the Russian budget. "
I wonder why we do not feel it in the sky in any way? Money works, but where are the results? In the increased VAT? In retirement robbery? At ever-rising prices for everything?
Very doubtful such a statement. I would say that this is too optimistic.
"We have a task - to grow to a certain level and then slowly, slowly use it, without shaking the macroeconomic situation. We have now come to this, we are starting to do it. These placement revenues go to the federal budget. The total income from the placement of the NWF funds credited to the budget of 2018 amounted to 70,5 billion rubles. "
Clear. Not yet matured. Well, let's wait.
Foreign policy and everything connected with it. Expectedly there were reproaches towards the United States and the usual waving of a bouquet of "Vanguards", "Daggers", "Caliber". "Petrel", "Poseidon", "Sarmat", "Zircon", "Relight" ... In general, all the terrible names went into effect.
"This was not mentioned earlier, but today we can say: this spring the first nuclear submarine will be launched - the carrier of this unmanned complex. Work is going according to plan. "
Of course, it was impossible to say before. This is clear. It is a pity that they didn't reach the Army 2020, but nothing too. Shiver, America. Russians are swimming.
"In recent years, the United States has pursued a policy in the Russian direction, which can hardly be called friendly. The legitimate interests of Russia are ignored, various kinds of anti-Russian actions are constantly organized, absolutely not provoked, I want to emphasize this, not provoked by us, more and more illegal sanctions are introduced from the point of view of international law. Almost completely and unilaterally dismantled the legal framework of international security over the past decades, and at the same time Russia is called almost the main threat to the United States. "
We can not disagree. Indeed it is. There is a constant deterioration in relations between the two countries, all these rattles
weapons
, sanctions and other undercover games are not encouraging.
In fact, there is a reluctance of both countries to solve the problems through negotiation sad, but yes, the United States is such a country that the language of force is more understandable to it. If this bouquet can help in building relationships - why not? Let them tremble.
However, do not look for a long time in the direction of foreign policy. Everything is clear and transparent there, there are enemies around us, against which all of Russia has to fight. No other way. Neither without an external enemy, nor without battles.
And it is wonderful that there is the USA. There wouldn't be - I had to invent an enemy, or, much worse - look for the inside.
Of course, today everyone is more interested in internal problems. Already, perhaps, the third world seems to be only the most rabid in dreams. The rest, like the whole world, do not want it at all.
But for some reason everyone wants to live well and for a long time without exception.
What can be said about the words of the message? These are good words. The words of the wise ruler, the words of the patriot of his country.
But the message itself hides something that significantly reduces the value of Putin's words. Yes, the number 16. Up to this point, there were already 15 similar messages - and did everyone feel the magical effect of words on themselves? What about business?
But everyone still remembers quite well the disgrace of the "May theses", which, in fact, simply all the responsible persons spat on.
Words are not bad. Smart and beautiful words are twice good.
But it's good when the words do not diverge from the deed. But with this in our country, to be honest, so-so. More precisely, one thing is said, but another is executed.
So it is in our case. You can analyze each word for a very long time, but already, or almost everyone, the abundance of words begins to bother. Already want to do. This, you know, an abundance of beautiful and useful things.
I want to see the order. The order in everything, in health care, education, culture, the work of numerous administrations and administrations. I want to create.
In words, Vladimir Vladimirovich everything is beautiful. But as soon as you go beyond the threshold of your home, you realize that there is a huge gap between words and deeds. And the farther from Moscow, the greater the gap.
Having listened and reread the text of the message, I want to say only one thing. Enough of the beautiful words. Give beautiful deeds well, or at least a satisfactory implementation of these words.
P.S.
When this text was written, the news came that the government went on a well-deserved rest.
We look ... So far, everything is going as it was predicted literally the other day.