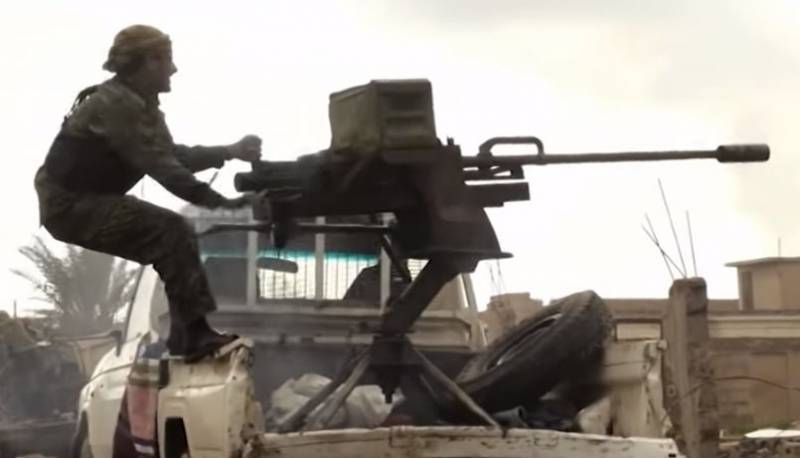 Syrian and Lebanese information resources publish reports that the SAR troops received data on the significant traffic of ISIS militants (* a terrorist organization banned in the Russian Federation) in the area of ​​Et-Tanf camp. This area of ​​Syria continues to be controlled by the US military. The data obtained by the Syrian armed forces allowed them to prepare for the strike undertaken by the Ishilovites.
This is an attempt at the onset of several groups of ISIS * terrorists of several hundred people.
According to the Lebanese AMN news service, ISIS fighters tried to take control of Badiya al-Sham. When the militants tried to launch an offensive, they were met with heavy fire from the position of the SAA in the mentioned area. The blow of the Syrian troops sharply cooled the militant offensive rush. Dozens of those killed among representatives of the terrorist pseudo-caliphate are reported.
In this situation, particular attention is drawn to the fact who transmitted to the Syrian intelligence data on the beginning of terrorist traffic from the area controlled by the US military. This was done by representatives of the armed forces of neighboring Iraq. Information was transmitted through border guards in the Al-Valid crossing area.
In Syria, it is once again noted that the very fact of an attempt by the Ishilov's offensive from the territories occupied by the United States indicates that the militants feel completely free in these territories.
When Damascus repeatedly demanded that Washington withdraw its troops from the El Tanf zone, the US authorities refused every time, saying that they were "continuing to fight ISIS in the area." In fact, the main activity of the United States near Mount Tanf is to control local oil fields.