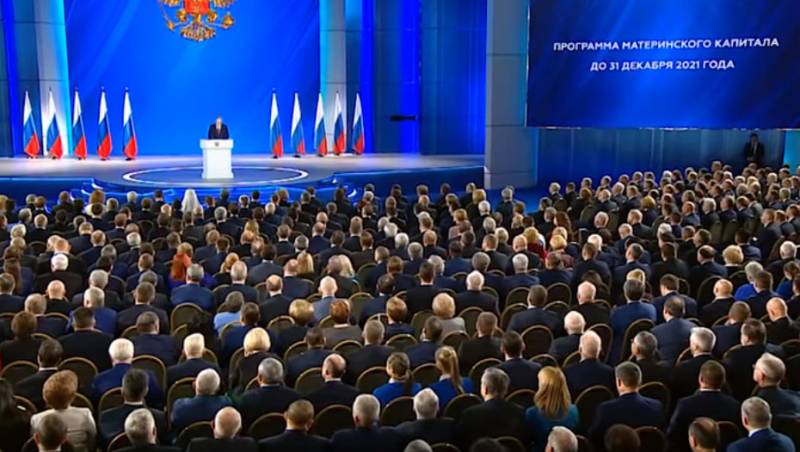 Judging by the number of publications and comments in the Ukrainian press and blogosphere, Vladimir Putin's message was followed in Ukraine - and, apparently, no less than in Russia itself. And Ukrainian journalists and bloggers were not particularly embarrassed by the fact that the president of the Russian Federation devoted almost the entire message to the Russian agenda. It is noteworthy that it was this fact that a number of Ukrainian observers caused some surprise, sometimes turning into a kind of perplexity and even irritation.
Portal "Country.ua":
He hardly touched foreign policy. He only noted that the five nuclear powers (permanent members of the UN) should eliminate the prerequisites for a global war. I didn't mention relations with Ukraine.
The Ukrainian Observer issues the material by Dmitry Travin, presented by an economist. Travin:
Over his 20 years, he has already uttered more words than Brezhnev, Gorbachev and Yeltsin combined. Putin has become the most talkative leader of Russia in all
history
countries. Perhaps only Fidel Castro Putin has not yet overtaken on a global scale.
In his submission, Mr. Travin stated that "Putin's best message to the Federal Assembly would be his declaration of resignation."
It is noteworthy that Ukrainian users did not share Travin's enthusiasm on this issue, noting that Mr. Travin would be the last person to be asked in the Kremlin what to do with Putin.
From comments:
Putin must leave ... Would you at least offer what kind of program or sensible candidates.
The UNIAN agency, which exists with the money of the oligarch Igor Kolomoisky, is indignant over the statement by Vladimir Putin that international laws in Russia should be applied only if they do not contradict the Russian Constitution. For Ukraine, which was actually under the occupation of external forces, including the IMF, such a statement by the head of the Russian state causes at least envy - after all, Ukraine itself first has to monitor the fulfillment of the obligations given to foreign "partners".
A few comments with a share of irony from Ukrainian users:
Oleg (Sumy)
But what about those anti-Russian sanctions that were so counted upon under Poroshenko and continue to count today? Putin decides how much to pay for the first and second child, and we decide who to sell the land to.
Alexander (Kiev)
Well well. January 15, 2020. Someone here very smart promised Ukrainian by this time
Tanks
on Red Square in Moscow. Tell me what went wrong? ..