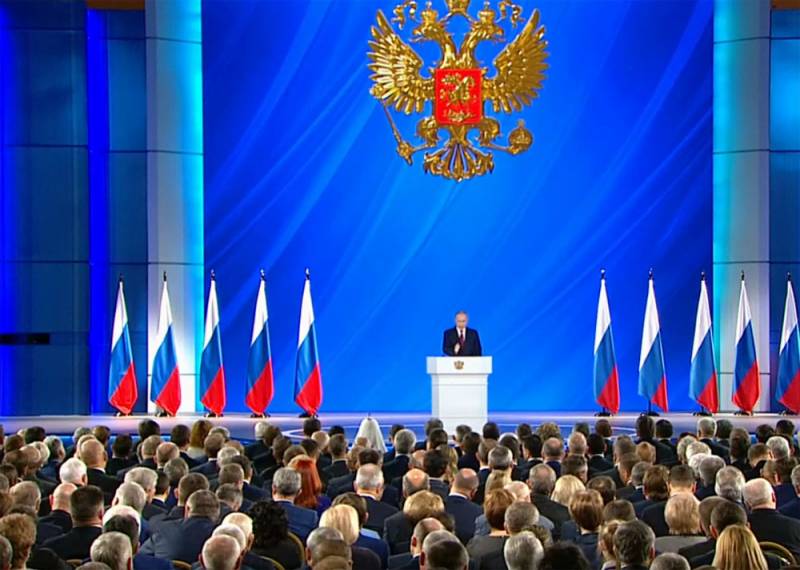 During the annual message to the Federal Assembly, which was first implemented at the beginning of the year, Vladimir Putin paid special attention to the Constitution of the Russian Federation. Initially, Vladimir Putin noted that there is no need to adopt a new Constitution of the Russian Federation. The main law, which was adopted in 1993, according to the president, is generally time-consuming, but needs some amendments.
According to the head of state, a norm should be enshrined in the Constitution of the Russian Federation, on the basis of which none of the major federal officials can have the right to have citizenship of a foreign state, residence permit.
The president:
There are no documents that would allow an official (executive, legislative and judicial authorities) to live abroad for a long time. The work of an official is the service of Russia!
After that, on the faces of some officials in the hall there was a semblance of a "sour mine."
According to the president, another amendment could be the following: the president of Russia should be a person who has lived in Russia for 25 years and who has no citizenship of foreign powers.
Vladimir Putin proposed the adoption of an amendment that expands the possibilities of the legislative system - parliament. So, Putin suggested that the State Duma could nominate the chairman of the government, and then after the approval of a particular candidate, approve the candidacy of deputy prime ministers and all federal ministers.
Putin:
And the president will be obliged to introduce ministers approved by the State Duma into the government.
At the same time, the head of state noted that Russia is obliged to remain a presidential republic in connection with the vast territory, national composition, and features of the regions. Vladimir Putin emphasized that an amendment could be made to remove the word "in a row" from the Basic Law in the clause on the two terms of the presidency.
Putin proposed that the president be given constitutional powers to dismiss judges of the Supreme and Constitutional Courts in the event of their anti-state activities.
Important words Putin also spoke about the status of the State Council of the Russian Federation.
According to the president, all these changes should not be adopted without the will of the people. In all likelihood, this could be a referendum.