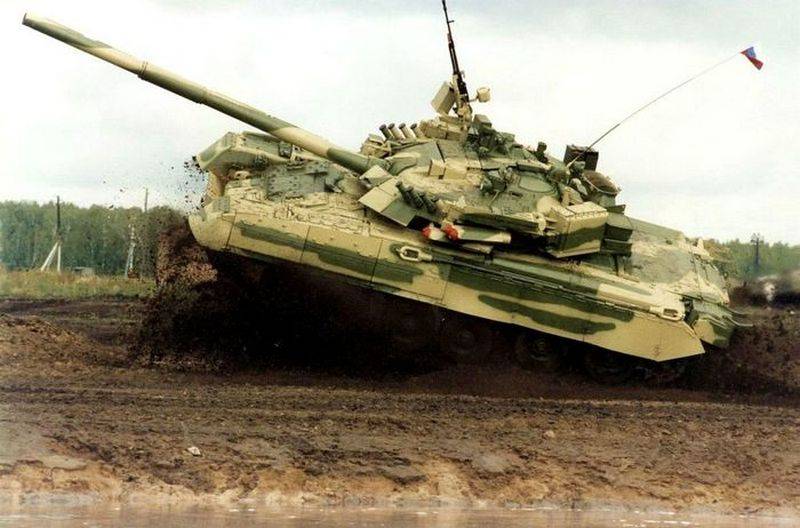 T-80UM2 with a complex of active protection "Drozd-2"
Russia will test the active protection complex TKB-0252 code "Drozd-2". Relevant information was posted on the public procurement portal on December 17 last year.
As follows from the document, the customer is the Instrument Design Bureau (KBP) them. Shipunova. The name of the purchase reads: "Ensuring the carrying out of control tests and demonstration displays of the experimental prototype of the TKB-0252 active defense complex (code" Drozd-2 ")."
According to reports, KAZ was mounted on MBT T-72BK. According to Rossiiskaya Gazeta, it is noteworthy that the placed list of special equipment and ammunition refers to 3OF77 protective shells used on another complex of active protection - Afganit, which, in turn, is installed on the promising T-tank 14 "Armata".
The documents do not indicate when and where control tests of the experimental sample will be carried out, as well as demonstration displays. Most likely, more complete information about the complex itself, as well as its tests, will appear after the tests are completed.
At the moment, it is known that work on KAZ Drozd-2 has been going on for quite some time. From open sources it is known that the complex provides protection in azimuth of 360º, and in elevation from -6 º to +20 º. The caliber of high-explosive fragmentation shells of the complex is 95 mm, the mass of the entire KAZ is 850 kg. (data could be outdated).
The complex is able to provide protection for heavy and light armored vehicles with a probability of 0,8 - 0,9, for special vehicles - at least 0,7 - 0,8.