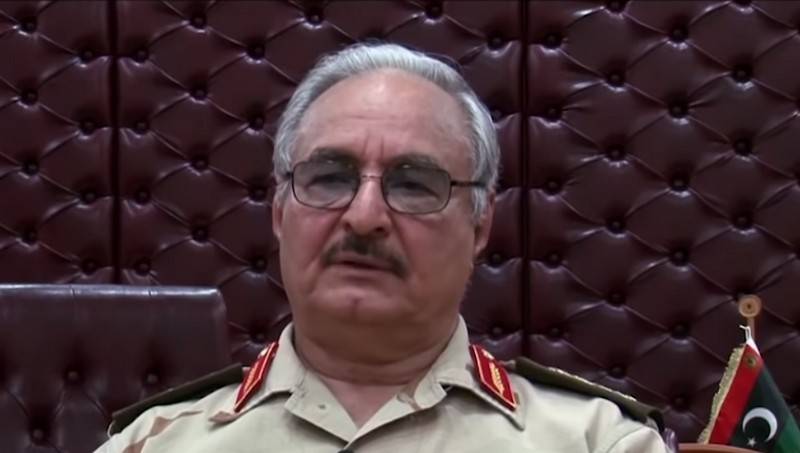 The commander of the Libyan National Army (LNA), Khalifa Haftar, who did not sign a ceasefire in Libya and left Moscow for indirect talks, said the reason for this was to ignore some of the demands of the LNA. This was reported by Al Arabiya.
According to the TV channel, Haftar was not satisfied with the proposed version of the ceasefire agreement, since he ignored a number of requirements of the Libyan National Army.
The draft [agreement] ignores many of the requirements of the Libyan army
- quotes the channel words Haftar.
According to Sky News Arabia, the commander of the LNA insisted on the deployment of his forces in Tripoli and the formation of a government of national unity, which would receive a vote of confidence in the parliament sitting in Tobruk, instead of Faes Saraj sitting there.
In addition, Haftar called for international monitoring of the ceasefire without any involvement from Turkey and demanded the unconditional withdrawal of "mercenaries brought from Syria and Turkey".
Earlier, the agreement was signed by the head of the PNS, Faez Saraj, who had also left Moscow.
According to experts, Haftar is unlikely to make concessions to his opponents, as recently the Libyan National Army (LNA) has been successful on all fronts, crowding out units controlled by the PNS. These victories were given to Haftar too expensive and therefore he does not intend to comply with the requirements of the same PNS, requiring the removal of the LNA from Tripoli.
Haftar's position is also understood in Moscow, so the initial task of indirect negotiations was to sign the initial ceasefire agreement with further prospects for negotiations.
Earlier, the leaders of Russia and Turkey, Vladimir Putin and Recep Tayyip Erdogan, agreed on a common position on Libya and called on the conflicting parties to a ceasefire.