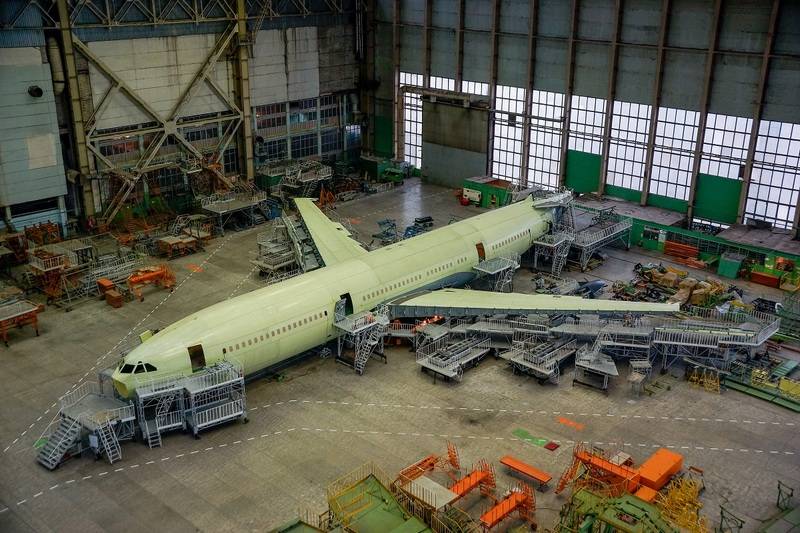 The first flight prototype IL-96-400M in the final assembly workshop
The first flight prototype of the promising IL-96-400M aircraft was handed over to the final assembly workshop of the Voronezh Aircraft Plant (VASO). Currently, the docking of the fuselage and wing consoles is completed. The next step is the installation of aircraft control systems and the installation of the interior. This was reported by the press service of the UAC.
Work on the program for creating a new IL-96-400M passenger aircraft is on schedule. The production of the prototype is planned to be completed by the end of the year. After that, he will be transferred for ground and flight tests. The first flight of the IL-96-400M is scheduled for 2021
- said the head of the Transport Division
aviation
UAC, General Director of PJSC Il Yuri Grudinin.
The completion of the slipway assembly and the transfer of the first flight model of the newest aircraft to the final assembly workshop was reported in the second half of September last year.
As previously reported, the wide-body aircraft IL-96-400M is created on the basis of the serial IL-96 completely from Russian components. Compared to its predecessor, the new aircraft has a longer elongated fuselage and new more powerful PS-90A1 engines instead of the PS-90A. The passenger cabin of a promising aircraft can be produced in three basic versions: three-class and two-class layout for 305 and 350 seats, respectively; a charter option in a single-class version with 402 seats is also possible.
According to the developers, in many ways, including cost-effectiveness, reliability and safety, the IL-96-400M will be compared with the best Western counterparts.