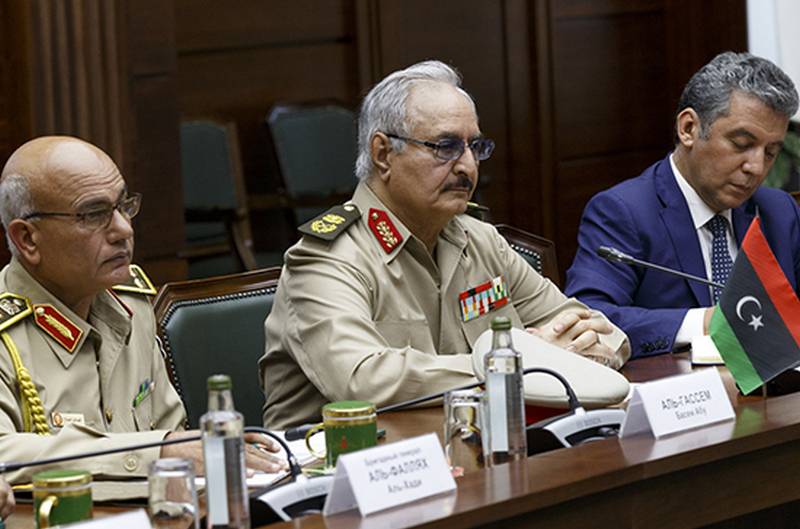 The talks in Moscow between the commander of the Libyan National Army (LNA), Marshal Khalifa Haftar and the head of the government of national consent, Faez Saraj ended without signing the final document, Haftar left Moscow without signing a ceasefire agreement. It is reported by RIA
News
with reference to an informed Libyan source.
According to the source of the agency, Khalifa Haftar asked for additional time for a comprehensive study of the agreement, which several parties to the conflict have already signed.
The day before, Russian Foreign Minister Sergey Lavrov confirmed the signing of the document by several parties and the fact that Haftar requested additional time.
Marshal Haftar, commander of the Libyan National Army, and Akil Saleh, chairman of the Chamber of Deputies in Tobruk, are considering this document positively and asked for a little extra time until the next morning to decide on its signing. I hope this decision will be positive.
declared Lavrov.
Earlier, the leaders of Russia and Turkey, Vladimir Putin and Recep Tayyip Erdogan, agreed on a common position on Libya and called on the conflicting parties to a ceasefire.
The main topic of the ongoing negotiations in Moscow was the definition of parameters and the possibility of signing an agreement between the HNA of Haftara and PNS Saraj.
At the moment, the draft agreement, determining the line of contact and planning further steps to stabilize the situation, was signed by Faez Sarraj and the head of the Supreme State Council Khaled Mishri. According to unconfirmed reports, Khalifa Haftar is inclined to continue the offensive on Tripoli.