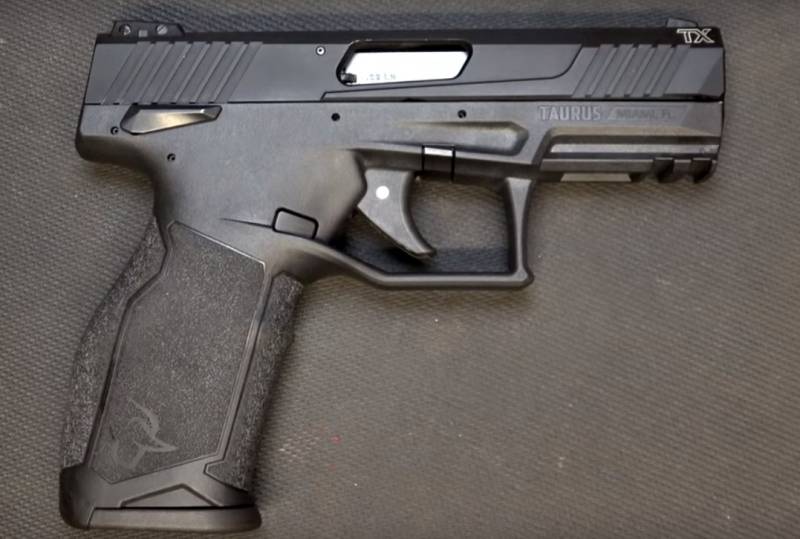 Guns & Ammo American magazine on firearms
weapons
, called the "gun of 2019". This honor was awarded to Taurus TX22 - a modern small-caliber pistol.
What made the editors of an authoritative publication make such a choice?
First, about the Taurus TX22 pistol itself. It was released by the Brazilian arms company Forjas Taurus SA, which is increasingly gaining a "place in the sun" in the global arms market. So, it was this company that produced the traumatic Taurus LOM-13 revolver and the Taurus Raging Bull hunting revolver.
The new Taurus TX22 pistol is a semi-automatic weapon with a full-sized polymer frame, specially tuned for the most convenient grip weapons. The fuse switch is duplicated on both sides of the gun, however, the shutter delay key is only on the left.
Taurus TX22 - a very light gun. Its mass in the unloaded condition is 482 grams, the length of the pistol is 178 mm, including 102 mm per barrel length.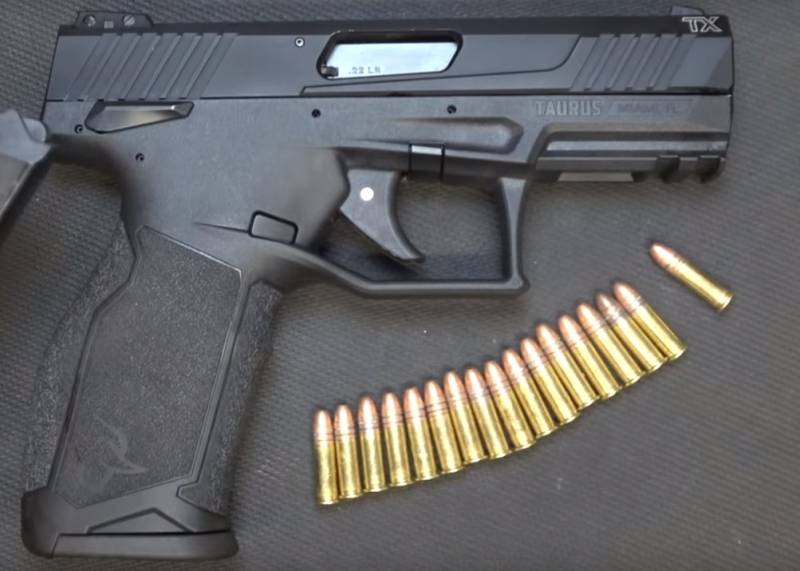 One of the main advantages of the gun is its simplicity. Weapons experts consider the Taurus TX22 one of the simplest representatives of similar weapons on the market. No complicated automation system, enough free shutter.
By its design, the gun is one of the simplest representatives of its class, which explains its low cost. The simplicity of the design is primarily due to the cartridge, which even in its most "aggressive" versions does not require a complex automation system. The free shutter quite successfully copes with the tasks set. The new pistol single-action trigger mechanism, shock. The single-row Taurus TX22 magazines hold 16 rounds.
A small mass is also an undoubted advantage, although there are some disadvantages - so, it is more difficult to use a gun for people with a small or, conversely, very large palm. Some experts are wondering about the reliability of the plastic gun store, but so far nothing is known about any complaints related to this particular part of the gun design.
But the main competitive advantage of the Taurus TX22 pistol is its low cost. A Brazilian pistol with 2 stores entered the American market with a retail price tag of $ 349. For a new weapon, this is a very low cost, especially by American standards.
The remaining pistols of the same class are sold at slightly more expensive, which makes Taurus a very profitable acquisition. Therefore, it is easy to predict that in the American, and indeed the world market, this gun will be in good demand.
Moreover, if we talk about the United States, in this country the market for semi-automatic pistols of 22 LR caliber is really huge. Most young Americans, acquiring weapons, begin their journey precisely with pistols of this caliber. Of course, they will also pay attention to the Brazilian novelty, especially after the influential mass media enthusiast described Taurus TX22 as the best pistol of the year.