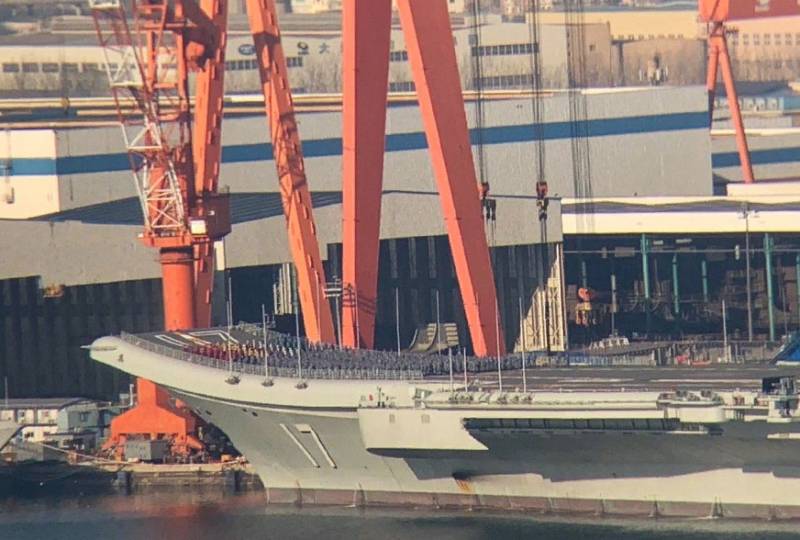 Chinese reporters note that the first aircraft carrier built in China - Type001A "Shandong" - "is probably preparing for a long sea voyage." This conclusion is made in the Chinese media in connection with the fact that shots appeared with the peculiarities of building an aircraft carrier team on the deck of a ship. It is noted that the construction was carried out not in the central part of the deck, but in that part of it where the springboard for take-off of the deck is located
aviation
.
It is reported that at the construction it was possible to see the Marine Corps unit of the PLA Navy. These soldiers differ from others in camouflage colors - in darker colors.
A major Chinese information resource, Sina writes that the Shandong crew began preparations for their first long voyage. At the same time, Chinese users make assumptions as to which region of the oceans the command of the PLA Navy can send an aircraft carrier.
In particular, it has been suggested that this may be the area of ​​the Philippines or the Arabian Sea. On the eve of the "Military Review" reported that the Indian aircraft carrier "Vikramaditya" appeared in the Arabian Sea. His appearance in this area in India itself was associated with Sino-Pakistani maneuvers.
Chinese experts suggest that the PLA Navy can take the opportunity to carry out training not only on the take-off and landing of Shandong's carrier-based aircraft on a long voyage, but also on landing (marine corps), for example, in the area of ​​the Pakistani port of Gwadar, whose infrastructure is developed precisely Chinese companies. It is noted that the landing can be carried out on board one of the ships of the escort group.