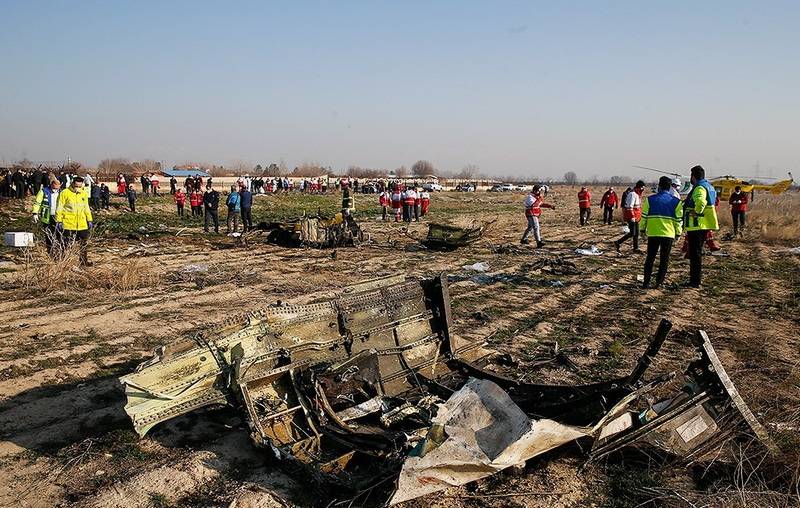 Iran has denied allegations by some foreign officials that a Ukrainian passenger Boeing-737 could have been shot down by an Iranian missile. Iran's government spokesman, Ali Rabei, called the allegations "a big lie" and "fraud," Iran's Press TV reported.
Once it becomes known that these allegations are fraudulent, no one dares to take responsibility for such a big lie. It is unfortunate that this psychological operation of the US government and those who support it knowingly and unconsciously, adds insults to the feelings of the families of the deceased, and, by spreading this lie, pursues certain goals
- said Rabei.
To open the investigation into the crash of an airplane, Iran has already invited the United States National Transportation Security Council (NTSB), the Canadian Transportation Security Council (TSB) to join it. In addition, representatives of Ukraine are already working at the crash site.
Earlier, Canadian Prime Minister Justin Trudeau accused Iran of using a missile to destroy a Ukrainian aircraft.
We have intelligence from many sources, including from our own intelligence services and from the intelligence of our allies, according to which the plane was shot down by an Iranian ground-to-air missile
- he said.
He was also echoed by the head of the British government, Boris Johnson, who also did not rule out the possibility of a missile crash.
Currently, there is a lot of information that the flight was shot down by an Iranian ground-to-air missile. It could very well have been unintentional
- He said and added that London "stands for the transparency of the investigation."
Earlier, a plane's defeat by a rocket, as a priority version of the disaster, was announced in Kiev.
The priority is the defeat of an aircraft by an anti-aircraft missile system of an air defense missile system, including the Tor air defense missile system, since information about the detection of fragments of a Russian missile near the site of the accident has already appeared on the Internet
- said the Secretary of the National Security and Defense Council of Ukraine Aleksey Danilov.
In Iran itself, and in other countries, the ignition of an airplane engine is considered a priority version for technical reasons.
On January 8, the Ukrainian Boeing 737 airliner crashed in Tehran, with 176 people on board, 9 of them crew members (citizens of Ukraine). All flying on board Tehran-Kiev died.