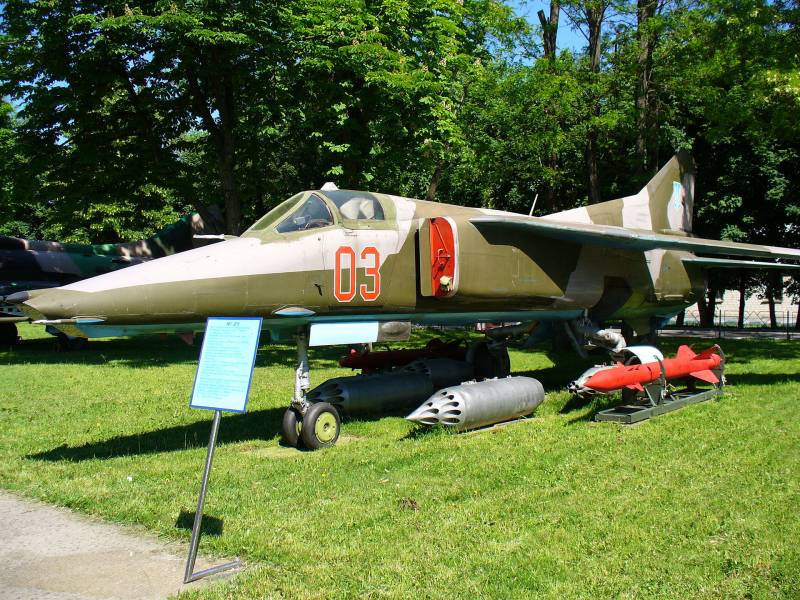 India wants to replace its MiG-27. But with which planes to replace them?
David Ex discusses this topic in a magazine
National Interest
.
India is trying to replace its MiG-27s, and with them other "old fighters," writes Ex. The key point here is this: New Delhi wants to spend about $ 18 billion on 110 new fighters. They will replace the MiG-21 and MiG-27.
In December 2019, the Indian Air Force planned to finally withdraw from service "the last few Soviet MiG-27 fighter-bombers." Thus, the 38-year stay in the MiG-27 "will be put to an end."
Pilots, the author further notes, are unlikely to "miss" the "fast, but unstable" MiG-27, which "is derived from the MiG-23 fighter-interceptor." Ex also writes that the US Air Force test pilots, who happened to pilot the captured MiG-23 as part of the once-secret Constant Peg program, literally "were afraid of the plane because of its tendency to explode in flight." The MiG-23 accelerates "until it explodes," said John Manclark, who commanded the Constant Peg program in the mid-1980s.
The Indian Air Force has been purchasing the MiG-27 since 1981. This type of aircraft participated in the battles during the war between India and Pakistan in 1999.
In Ax's article, this aircraft is called "complex and unsafe" compared to Western types of aircraft. Moreover, the "other Soviet types" of aircraft "were safer" in flight than the MiG-27. The Indian Air Force lost at least ten percent of its MiG-27s as a result of disasters.
So what will India replace its MiG-27 with? New Delhi intends to spend about eighteen billion dollars on the purchase of 110 new fighters instead of the MiG-21 and MiG-27, suggesting that the new aircraft will fly in company with European Jaguar, the French Mirage of the 2000s. and Rafale, as well as the Russian MiG-29 and Su-30. In addition, Teja's own fighter will be "next to fly".
All this hodgepodge, the American aircraft manufacturer Lockheed Martin called "the world's largest ecosystem of fighter jets."
The material recalls that Lockheed is supplying India with a new version of its iconic F-16 fighter, the F-21. Lockheed's marketing ad describes the F-21 as a "new fighter," although it actually "shares" many of its core functions with the F-16V, which the company previously sold to Bahrain, Greece, Slovakia, South Korea, and Taiwan.