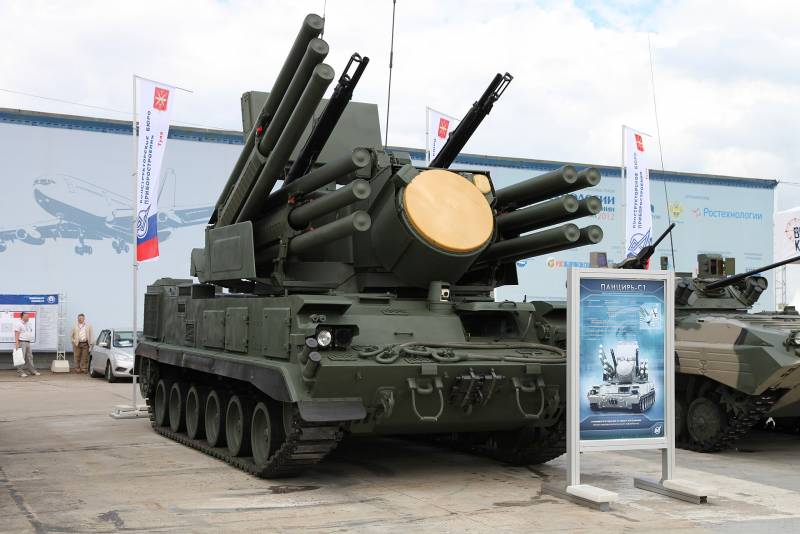 The Indian press claims that the Russian "Shell-C1" did not pass mobility tests in desert conditions. And for this reason, South Korea "leads the way in the Indian market". However, the Russian Ministry of Defense is protesting: after all, we are talking about a deal worth $ 2,5 billion.
The Indian Defense Procurement Council (DAC) is expected to review this month and decide on the acquisition of self-propelled air defense systems (SPAD-GMS). This was reported to The Economic Times in New Delhi by some anonymous authors who were "informed" in the relevant issue.
The Ministry of Defense of India should announce the purchase of new air defense systems for the army in the amount of $ 2,5 billion. The announcement is expected after a "decisive protest" in Russia. Reason: According to the newspaper, Russia "protested" India's choice of a South Korean manufacturer and demanded a review of the decision, saying that it was "unfairly disqualified," the newspaper said.
What is the point?
As the observer recalls, after a series of tests in various territories, including desert lands, "the only system that can qualify for a contract" was the K-30 Biho (Flying Tiger). This system was developed by the South Korean company Hanwha Defense.
As for Russia, according to the sources on which the publication relies, it offers "two separate systems," namely, the modernized Tunguska-M1 and Pantsir missile systems. But both systems "failed the test."
A significant failure for Russia turned out to be "mobility tests: they [systems] failed to fulfill the requirements," the article states.
Hanwha from South Korea entered the short list of applicants at the beginning of last year, the publication further recalls. However, negotiations have stalled, not reaching the next stage - bargaining. The reason for the suspension of price negotiations was mainly "a few objections and complaints from the Russian side, including an official complaint to the committee for internal monitoring of the ministry".
Russia is looking for another chance, wanting to go through field trials and prove that its systems meet all technical requirements. Meanwhile, the Indian army is "satisfied" and, according to sources, advocates a transition to price negotiations.
The choice of the K-30 Biho unpleasantly hit the Russian side, which was
"The traditional provider of mobile ground systems for the Indian army."
India should make a final decision on this issue in the near future.
Discussion of the acquisition of mobile air defense systems began back in 2013. Since then, all competitors have passed a series of tests, stretching over two years. The choice of the K-30, the publication concludes, was the second major victory for Korean systems in India after the acquisition of the K-9 self-propelled artillery systems (in India this system is called the Vajra).