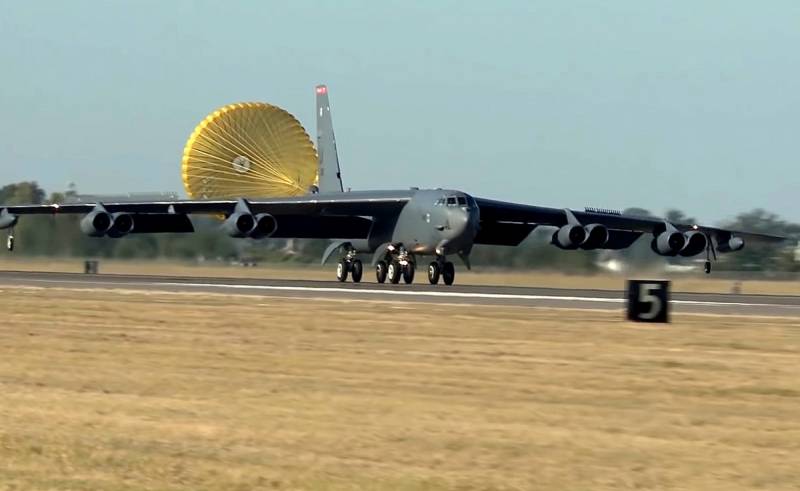 The United States deployed B-52 strategic bombers closer to Iran. We are talking about six American strategists. It is reported by Fox News.
According to available information, six bombers flew from the Barksdale air base in Louisiana, USA, and landed on Diego Garcia Island in the Indian Ocean. The new base of American strategists is located at a distance of about 3700 kilometers from the southern border of Iran.
At the same time, the United States issued a warning to commercial courts in connection with threats from Iran in the Middle East.
Persian Gulf, Strait of Hormuz, Gulf of Oman, Arabian Sea, Red Sea, Gulf of Aden and Indian Ocean - a threat to commercial vessels from Iran and its puppets
- The US Maritime Administration said in a statement.
Iran previously said it had prepared 13 scenarios of revenge for the United States for the assassination of General Kassem Suleimani. This was announced on Tuesday by the secretary of the Iranian Supreme Security Council, Ali Shamkhani. He stated that "the weakest scenario could be for the United States
historical
a nightmare. "
If American soldiers do not voluntarily leave our region, we will make sure that their bodies are removed in a horizontal position
- Shahmani's statement is quoted by the media.
However, there is no information regarding the details of the prepared scripts themselves.
Recall that General Kassem Suleimani and the deputy head of the Iraqi Shiite militia Abu Mahdi al-Muhandis died on the night of January 3 during an air strike near the airport of Baghdad. US President Donald Trump, who ordered the liquidation of the general, said earlier that the strike was "for peace." He also accused Suleimani of involvement in organizing an attack on the diplomatic mission in Baghdad on December 31.
In addition, Trump has already warned Iran that the United States is ready to strike at 52 targets in the country, some of which are of cultural and historical significance.