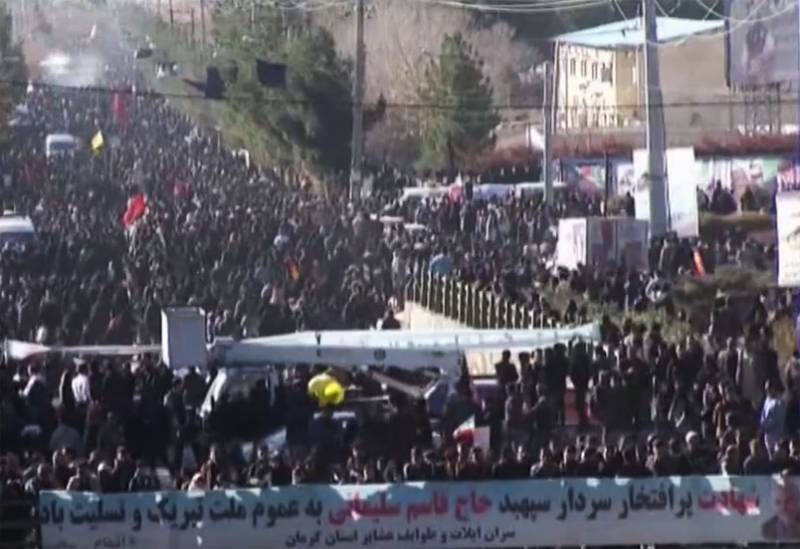 Seeing General Kassem Suleimani's last trip to Iran led to a mass crush. According to the most conservative estimates, mourning rallies in various cities of Iran gathered about 5 million people.
The German newspaper Frankfurter Allgemeine Zeitung comes out with material that a crush in the crowd led to numerous casualties. According to these reports, a total of about 30 people died, more than two hundred were injured of varying severity.
Iran's state television confirms the stampede, but has not yet reported the exact number of deaths.
Against this background, there are messages on Twitter that shots led to the stampede. The reports, which are not currently confirmed, say that the allegedly unknown fired several shots into the air, leading to panic in a huge crowd of people.
During the funeral of General Suleymani, as well as another Iranian officer, Hossein Purdshafari, who also died in Iraq, the crowd chanted the slogans "Death to America!"
General Suleymani's funeral is taking place in Kerman, where today was declared a day off due to the massive influx of people who wished to say goodbye to the commander of the Al-Quds IRGC forces.
Broadcast RT from Kerman:
A video from Kerman appeared on the network: ambulance officers are trying to reanimate people right on the street (it says 35 dead and 48 injured):
# BREAKING
Kerman, south-central # Iran
Burial of Soleimani postponed after at least 35 die, 48 wounded in stampede during funeral, according to state TV pic.twitter.com/6UcOpBUx63

- Heshmat Alavi (@HeshmatAlavi) January 7, 2020