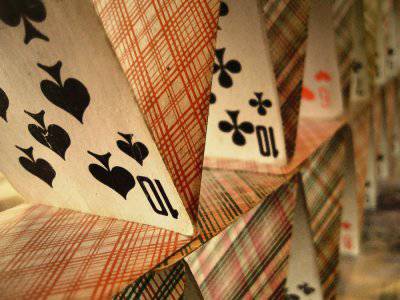 The crisis of European integration seems to be reaching its apogee. And what next? Will Brussels decide to publicly declare the collapse of the integration process, and to put a big cross on such a concept as the Eurozone?
Of course, such a sharp step from European politicians can serve as a funeral march in general for the entire world economy. The announcement that a currency such as the euro is actually dead, and disconnecting it from the apparatus, let's say artificial respiration, will lead to tectonic shifts far from an economic plan. Such an announcement will unambiguously be followed by sociopolitical changes, which, by their tragedy, may well recall the situation when Europe was almost completely in ruins. Now these ruins may be imaginative, but this does not detract from their negative role for the entire world economic and political system. Yes, and from the image to its real embodiment, it is sometimes very, very close ...
In no case, without provoking the reader to some rabid alarmism, it is worth considering a situation that may develop with the hypothetical refusal of the European Union from further integration under the same conditions. One of the pillars of those very old conditions is the attempt to create a territorial entity that would be as homogeneous as possible both financially and politically. And in this regard, the single currency, the euro, to which the overwhelming majority of the ideologues of the large-scale European union had really high hopes, served as a guiding light for Europeans.
So, let us imagine for a second that the economic crisis that "Mammai" went through in the states of southern Europe led to an understanding of the futility of endless lending to Greek, Italian, Spanish and Portuguese banks. In this regard, further strokes of the picture look something like this: South European banks, which received generous funding from the German, French and other financial systems in Europe, can move to these very systems. In other words, if it seems necessary to the same Paris and Berlin, then the Greek and other banks will become French or German, and the very essence of financial integration through the banking platform will finally turn into ashes. However, is such a scenario a picture of the future of Europe?
Many European political scientists and economists say that already now the same Greek financial system is, in fact, a large, crisis branch of the Berlin system. The German authorities, who today, reluctantly trying to pretend to help out their southern European neighbors, in fact, pursue a completely different goal. It is to save the South European markets to continue the sale of German goods on them. In fact, the integration of the same Greece, as, in principle, of a number of other countries, into the Eurozone is nothing more than a thoughtful economic and political move, when major European manufacturers simply squeezed their competitors out of the market in those same countries that were accepted into the Eurozone. .
It's no secret that the industry of the Greek state, after declaring the country a member of the single financial space of Greater Europe, began to experience very serious difficulties. It would seem that the industry has not disappeared anywhere, and at first even got the opportunity to export their goods abroad on favorable terms. However, what happened next was what this record of total European financial integration was brought to. The Greeks (like Italians, Spaniards and others) have become, simply put, richer. The level of their income jumped quite seriously. Everything from such a joyful event came to an indescribable delight. But then no one, either in Europe or in other parts of the world, had any idea that European integration, and even on the basis of a single currency with different variants of national governments, was a time bomb.
Southern Europe, after joining the Eurozone, could afford a little more than just buying goods released exclusively within its territorial framework. The increase in incomes provoked a rather active interest in high-quality and expensive goods, produced, for example, by the same Germany. Obviously, this perfectly stimulated the German industry. Then everything went on a deep enough track.
The Germans and the French are more willing to feed the "southerners" with loans, and those, in turn, are more willing to take these loans. They say that if they give, then you have to take it - why refuse? Well, we say, now a single family - that's what the elder brothers are sharing with us. And first of all, from this state of affairs, it must be admitted, it was good for both the giver and taker. In general, it seemed that this almost paradise life would only improve: rich Germans would get richer and provide money at a certain percentage to those who are directly interested in their products.
But, as we all know perfectly well, this euphoria was destined to come to its logical conclusion. The "elder brother" suddenly felt that the "younger brother" became less and less willing to pay his debts, and besides, like the whole world, he increasingly began to pay attention to goods of far from European origin. It came to an actual collision of interests, when the Southerners were declared: friends, you are wrong, because "who feeds a girl, he dances her," and you decided to "dance" in another direction. However, it was already too late, and now the same Germans from the south who have driven themselves into a dead end have, in fact, declared: if you want to maintain at least a precarious balance in the Eurozone, give money without any conditions. And the Germans give. Sweat, curse, but give ... After all, they have nothing more to do ...
And now just the same and consider the option when the Germans and other sponsors of a large European construction site with a dampened and rotten foundation decide to announce that the Greeks, Spaniards, Italians and others need to go to their drams, pesetams and liras, and only remember about the euro in colored dreams. But then the Germans themselves are already completely and irrevocably losing the South European market, trying, perhaps, to pull its banking system to the surface, which has long been in the hands of Berlin and Parisian financiers.
After such a precedent, obviously, a new phase of the European
stories
, which can be characterized by the famous phrase "from love to hate ...". "Southerners", not without a share of logic, can accuse the "northerners" of all mortal financial sins: they say, first they themselves have lured into the trap by the name of the euro, and now they are trying to get rid of us, making them financially untenable. And this can already lead to a further strengthening of left-wing and right-wing forces capable of trying to rally society under the slogan of revenge. Revenge for hanging an eurolight, forced under this yoke, say, to plow a couple of uneven furrows, dismantled and, having ceased to give oats, were returned to their not very impressive stall.
And after all, revanchist views and appeals are quite capable of finding their mass fan. Then even the famous Athenian riots with burnt cars and the defeated offices of foreign companies will seem like flowers.
In this case, it will suffice to appear a person with the qualities of a leader who can, with the help of propaganda, convince people of the need for revenge (as, for example, the 1933 model of the year has already been in Europe), in order to put civil anger on a destructive course.
If events follow this scenario, and there are prerequisites for that, then Europe should expect a big social explosion, which certain forces can use to solve their interests. The end of European integration can generate one of the largest European confrontations since the end of the Second World War.