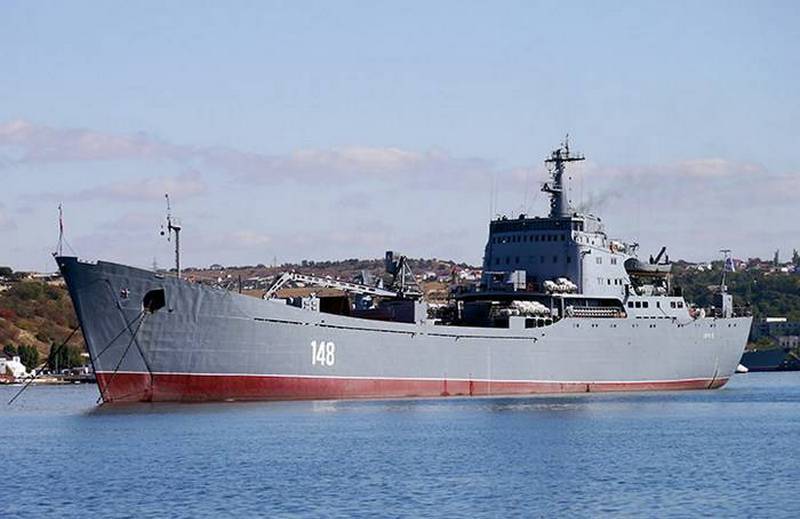 Large landing ship (BDK) "Orsk" project 1171, which is part of the Black Sea
fleet
will be put for repair due to a breakdown of the propulsion system. This was reported by TASS with reference to a source in the power structures of the Crimea.
According to the information received
news
agency, during the next trip to Syria, one of the two diesel engines at the ship broke down. The BDK was towed by sea tug MB-304 to the base of the Black Sea Fleet. Where the repair will take place is still unknown. Also, the duration of the repair is not known, since everything will depend on the availability of the necessary spare parts and the timing of their manufacture.
One of the two diesels failed at the BDK during the next campaign in Syria
- said the source.
Note that the BDC "Orsk" left the planned repair at the end of October 2017. Repair was carried out at the 13 shipyard of the Black Sea Fleet of the Ministry of Defense of the Russian Federation in Sevastopol. The ship participated in the "Syrian express", delivering goods to Syria. It was at the BFK Black Sea Fleet that the heaviest burden fell on providing the Russian military group in Syria.
The large landing ship "Orsk" is part of the crew of landing ships of the Crimean naval base, has a displacement of 4,6 thousand tons, cruising range of 10 thousand miles. The ship is capable of transporting up to 1,5 thousand tons of equipment and cargo.
The ship was laid down at the Yantar shipyard in Kaliningrad on August 30, 1967. It entered service on December 31, 1968 and became part of the Black Sea Fleet.
Dimensions: length - 113,1 m, width - 15,6 m, draft - 4,5 m.
Maximum travel speed: 16,5 nodes
Navigation range: 10000 miles with 15 nodes.
Powerplant: 2 diesel, 2 propeller, 9000 hp
Capacity: up to 1500 tons of vehicles and cargo.
Armament: 1X2 57-mm artillery mount ZIF-31B.
Crew: 55 people.