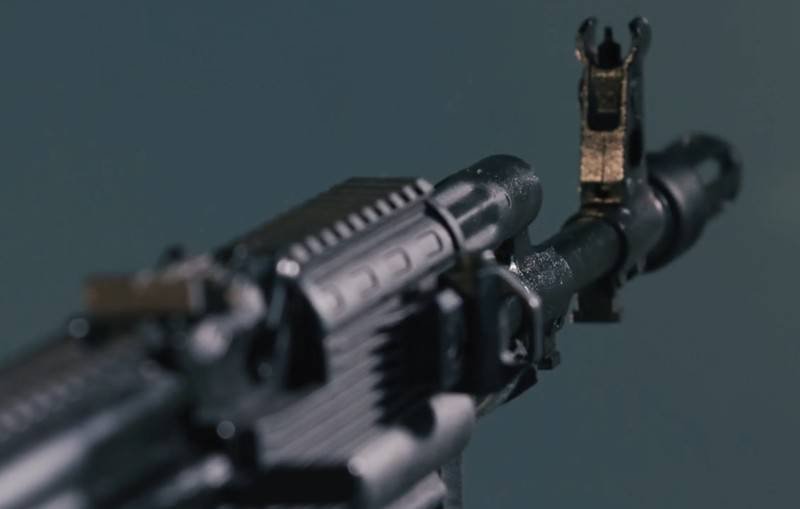 It is reported that in a month the Indian army will sign a "memorandum of understanding" on Russian AK-203 assault rifles.
About one hundred thousand machines will be manufactured in Russia, and the rest in India, reports The Hindu correspondent from New Delhi. A joint Russian-Indian enterprise will be engaged in their production.
The publication believes that the armed forces are likely to sign an intergovernmental memorandum of understanding within the next month. This is a preliminary purchase of a batch of Russian AK-203. Further
weapon
will be produced locally, a source in the ministry of defense said.
About 750 thousand machine guns will be delivered directly from Russia, a spokesman for the Ministry of Defense said the rest will be manufactured by a joint venture in India. This joint venture is located in Corve, Uttar Pradesh. Production will be launched with the participation of the Ordnance Factories Board (OFB) from the Indian side and Rosoboronexport and the Kalashnikov group of companies from the Russian Federation. At the same time, OFB owns a 50,5% stake, and the Russian side owns the remaining 49,5%. This joint venture was created in accordance with the intergovernmental agreement between India and Russia, signed in February 2019.
According to officials, the joint venture received all the necessary licenses for production and export. The Ministry of Defense has already sent a joint venture request for the supply of 671 thousand weapons.
Considering the issue of launching a weapons project, the Indian Minister of Defense previously emphasized the need for one hundred percent localization of production in India.
This, however, does not mean that Indians will focus on new AKs. The publication further notes that "in addition to the AK-203," the Indian army is armed with SIG-716 assault rifles. Sources said that the troops had already begun to receive the named rifles (ten thousand pieces). Weapons arrive in accordance with the contract for 72400 SIG-716 assault rifles, signed in February 2019 with the US unit Sig Sauer.
Initially, it was generally planned to provide the entire SIG-716 army, one officer told the correspondent. However, "huge expenses" were taken into account. And it was decided that these rifles would be handed out to the troops that are at the forefront of the defense. The remaining forces "can be armed with AK-203 assault rifles."
Earlier, the Indian army was looking for a replacement for their INSAS rifles - they wanted to replace them with something more modern. In January 2018, the Ministry of Defense approved an accelerated procurement plan. Of the 72400 American rifles, 66400 are intended for the army, 2 thousand for the naval
fleet
and 4 thousand for the air force. It is expected that the entire number of rifles will be delivered to the Indian army within twelve months from the date of signing the contract.