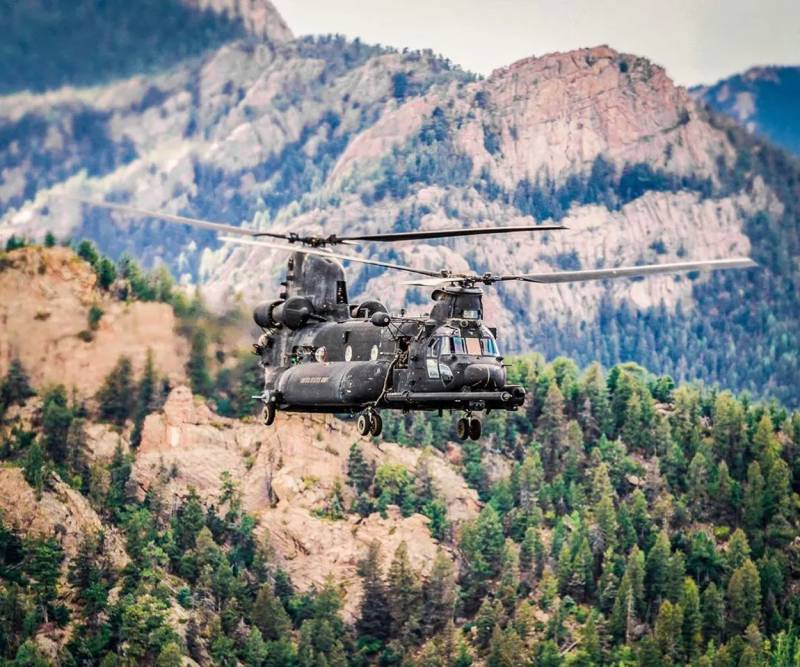 In the coming year, the US command published a new photo, which shows the updated Chinook helicopter. We are talking about the version of the MH-47G Chinook, belonging to the 160th aviation regiment of special operations forces of the United States. This regiment in the US Army is called "Night Stalkers."
This version of the helicopter differs from others in the presence of a special protection system - AN / AAQ-24. The manufacturer of the system is Northrop Grumman. The main goal of AN / AAQ-24 is to "confuse" enemy missiles, with the help of which an attack on board is carried out. First of all, we are talking about missiles with an infrared homing head (WIG or TGS).
The AN / AAQ-24 system, installed in the area of ​​the Chinook rear landing gear supports, uses laser radiation to disorient the helicopter launched by the helicopter. A low-power laser is used, which ultimately causes the missile to deviate from the course.
It is reported that AN / AAQ-24 allows you to protect the helicopter, including anti-aircraft missiles MANPADS.
In addition to the AN / AAQ-24, the MH-47G Chinook version is equipped with additional protection systems. For example, these include covers on the exhaust pipes of the engine, which serve to reduce infrared visibility. In addition, the helicopter crew has the ability to use missile warning sensors from the ground and from the air.
The first flight tests of such modifications of the Chinook began in the USA in 2017.
It should be noted that the manufacturer creates AN / AAQ-24 systems for Apache AH-64 and UH-60 Black Hawk helicopters.