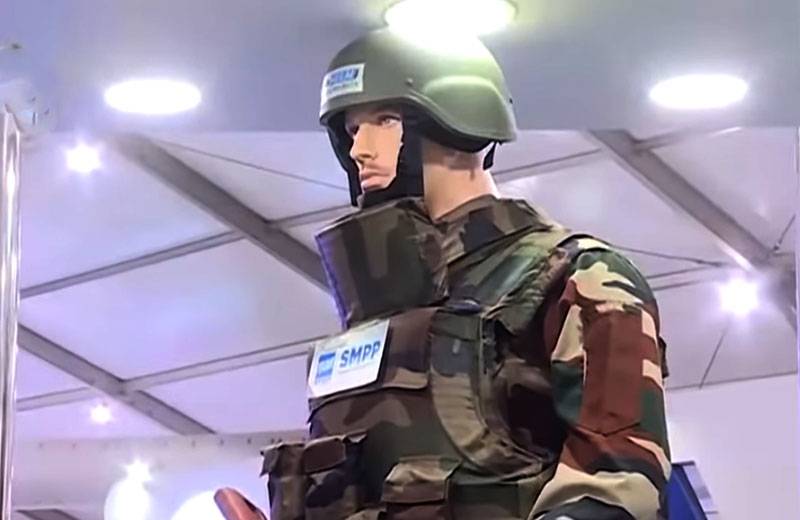 In India, they announced the completion of tests of body armor, the basis of which are composite materials. It is reported that research in the field of creating body armor, which is about 10 kg lighter than previous similar versions, was carried out by specialists from the DMSRDE Laboratory for the Study of Innovative Materials in Kanpur.
The creators of the personal protective equipment call it a bulletproof jacket that covers vital areas of the body: the neck, groin area, the body not only in front and behind, but also on the sides.
The new body armor was developed by order of the General Staff of the Indian Army.
According to the manufacturer, despite all its relative lightness (according to some reports, it weighs less than 6 kg), it provides protection against 9-mm carbine ammunition, and also withstands hit from a Kalashnikov assault rifle, distributing the impact on the material. The version of the machine is called - AK-47. At the same time, the range of the shot from AK-47, which is safe for a soldier in such body armor, is not said.
The bulletproof vest (bulletproof jacket) has a modular basis: plates can be replaced with those that correspond to a certain protection class.
The General Staff of the Indian Armed Forces noted that the new body armor, created on the basis of composite materials, will begin to enter the troops in the near future. Initially, they will be equipped with special units of the Indian army, including those deployed in the area of ​​the contact line in Kashmir, which remains a hot spot on the map of the region.