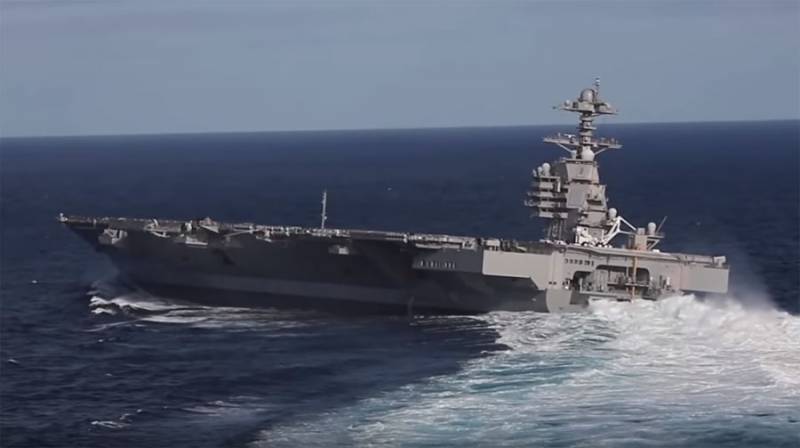 In the United States, another series of tests was conducted on a modernized version of the deck system - the aerofinisher and electromagnetic catapult for the aircraft carrier USS Gerald Ford (CVN-78). We are talking about an improved system, which was initially tested in 2016 (AAG). At that time, the tests were not recognized as successful due to fixed problems during the development of landings for carrier-based fighters with a short time interval.
General Atomics reports that the AAG (Advanced Arresting Gear) system has been refined. To test its reliability, tests were conducted at the Laihurst test site (New Jersey, USA). General Atomics President Scott Forney called the tests "stress tests."
From his statement:
Five F / A-18E / F aircraft for two tested the reliability of the updated Advanced Arresting Gear system. At some stages of the test planes landed literally every minute. It was a drill test during a conditional operation with frequent sorties.
According to the president of the American company, the system has shown the ability to work effectively in extreme conditions.
Forney:
We gave AAG a great reserve for its operation on the aircraft carrier "J. Ford". We used technology with three heavy-duty cables.
The company notes that the idea of ​​creating an improved mechanism for stopping aircraft on deck and an electromagnetic launch system designed for a new aircraft carrier is to allow it to launch and receive more aircraft, while creating less load on the aircraft than in the version of the steam catapult.
General Atomics notes that they expect the aircraft carrier to go to sea to test the updated version of the AAG and electromagnetic catapult in real conditions.
Earlier it was reported that the system, servicing take-off and landing of aircraft on the "Ford", allows for flights every 15 seconds.