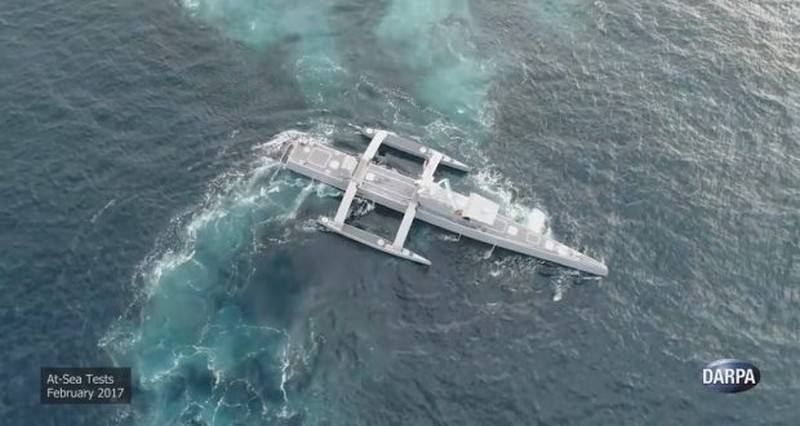 Head of Force Command
fleet
US (US Navy's Fleet Forces Command) ordered to begin developing the concept of surface drones. This is a concept of operations for large and medium unmanned surface ships, the DefenseNews portal reports from Washington.
The bottom line is that the surface fleet will go to the practical stage of developing the concept of "organization, acquisition, training, equipment, support, implementation and operational integration" of unmanned surface ships.
Money is allocated for that (the amounts, however, have not yet been specified).
News
arrived "after a long battle with Congress for securing funding" of these same unmanned surface ships, the newspaper notes. It should be noted, gentlemen, congressmen expressed a fair amount of skepticism about the fact that the navy generally "knows enough" about what it is developing to justify financing.
And yet, ultimately, the fleet was allocated funds for the acquisition of two large unmanned surface ships. True, the US Congress banned the command from equipping these ships with vertical launch installations, as the military had previously planned.
Operations Concepts (CONOPS) are designed to identify "initial operational capability" for medium and large unmanned vehicles, and only then to determine what these platforms will be designed for.
Previously, it looked like this: a medium surface drone is a vessel capable of transporting various modular cargoes. A large surface drone would have a vertical launch setup.
Medium unmanned surface ships initially had to focus on reconnaissance and surveillance operations, as well as electronic warfare, and large unmanned ships on surface combat operations and strike missions.
The command instructed a group of specialists to study a number of issues: platform control, compatibility and communication problems; basing; maintenance and support of new platforms; the need for this or that equipment (from sensors and computers to auxiliary systems), staff training and qualifications to support unmanned operations. The group was tasked with preparing the first draft by February 2020, and the final draft by September.