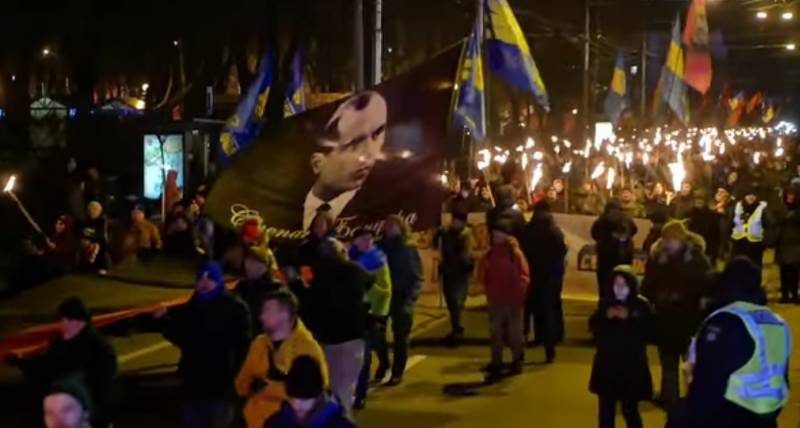 To condemn once and for all the cult of Bandera and his followers - this is what the diplomats of Israel and Poland want.
Ambassadors said about the insulting honoring of the figures of the OUN-UPA (banned in Russia) in Ukraine by ambassadors. According to the ambassadors, the activities of the members of this organization should be condemned forever.
The statement of the diplomats was published on the website of the Polish Embassy in Ukraine. The Polish ambassador B. Tsikhotsky and the Israeli ambassador D. Lyon emphasized their concern about honoring in Ukraine the memory of the leaders of the OUN and UPA.
The statement abounds in specifics. Diplomats indicated that representatives of the Lviv Regional Council and the Kiev City Administration still honored historical figures who should be "convicted once and for all."
The ambassadors reminded that at the end of December the Lviv Oblast adopted a resolution on the allocation of funds in 2020 to honor A. Melnik, and at the same time the anti-Semitic writer I. Lipa and the latter's son, Yu. Lipa, who built the "theory of the Ukrainian race".
The ambassadors and the placement of the portrait of S. Bandera on the first of January on the Kiev administration building were also condemned.
The diplomatic staff believe that honoring the memory of those figures who were engaged in the propaganda of purges on an ethnic basis, "is an insult." Diplomats noted that their governments are now doing everything they can to prevent attempts to distort
history
wars and possible attacks on Jews in different countries.
Diplomats hope that in Kiev and Lviv they will listen to their voices and embark on the path of seeking the truth.
In addition, the ambassadors expressed their readiness to cooperate accordingly with Yad Vashem (Israel) and the Institute of National Remembrance.
Recall, in Kiev, the torches and drummers honoring Bandera recently marched. It was reported that less than a thousand people participated in the march.