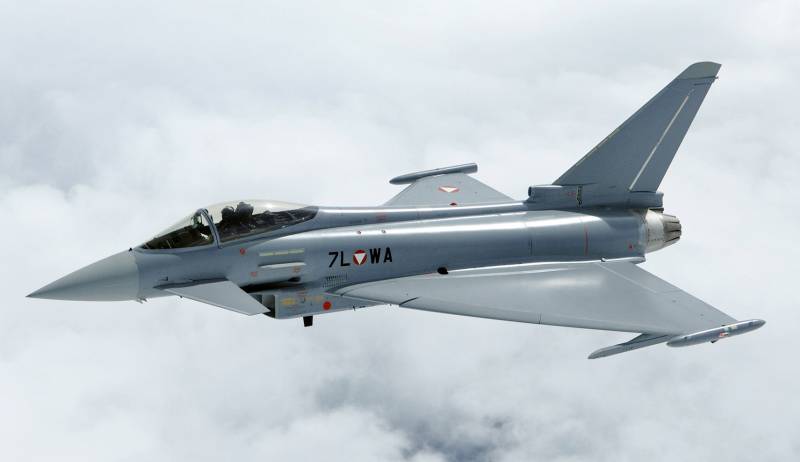 European allies do not lose hope of creating a military airline business on the Vistula River and accelerate air expansion. We are talking about the heavy fighters Eurofighter Typhoon.
The promise to expand industrial cooperation will be the key that will open access to the most ambitious rearmament programs for the Polish
aviation
writes the resource radar.rp.pl. In December 2019, representatives of the Italian defense, aviation and space industries, including the Italian Leonardo group, actively promoted this idea in Warsaw.
Poland is already a strategic client of Leonardo Corporation, representatives of the Italian industrial giant say. The Italians recalled a contract for eight AJT M-346 Master aircraft received by the Eagle School in Polish Deblin. Now the fleet of light aircraft AJT will expand due to new simulators. They will be operated by the Polish Air Force as part of an integrated training system for pilots of Polish military aviation.
Why is the Ministry of National Defense of Poland tempted by Eurofighter Typhoon fighters?
At present, Eurofighters, descending from production lines, are machines with increased tactical capabilities. Much has changed compared to when Eurofighter Typhoon was used in the Old World 14-15 years ago. Military expert Jerzy Grushinsky confirms that the fighter "becomes a multi-tasking machine." The last point above the "i" was set by the installation of weapons, namely long-range missiles. Grushinsky believes that after the current modernization, the Eurofighter Typhoon can qualify as a 4+ generation aircraft.
True, this car is "not quite invisible." This is especially clear from comparing Typhoon with the latest models: the F-35 Lightning II from Lockheed Martin or Rafale from Dassault Aviation. Eurofighter differs from them in a weaker limited detection system (stealth).
Typhoons, on the other hand, make up for this weakness with much greater payload. According to Grushinski, the increased carrying capacity opens up the possibility of expanding the airborne reconnaissance and electronic warfare equipment. At the same time, it allows the use of suspensions with additional missile weapons. New electronic equipment and weapons allow the Typhoons to simultaneously perform several different tasks in one flight, the expert points out.
To date, the industrial consortium Eurofighter (Airbus Defense & Space, Leonardo and BAE Systems with production centers in Germany, Italy and the UK) has released 623 Typhoons. As a result, Eurofighter became the largest European military program.
Typhoon has new radars. He is armed with high-precision European missiles, including Storm Shadow to destroy strategic ground targets. In addition, the vehicles will receive Meteor guided missiles (air-to-air) and Brimstone anti-tank missiles.
"Typhoons" are in fleets of already eight countries. These are Germany, Austria, Great Britain, Italy, Spain, Saudi Arabia and Oman. The first plane is waiting for the ninth participant, Kuwait: the state ordered 24 cars.