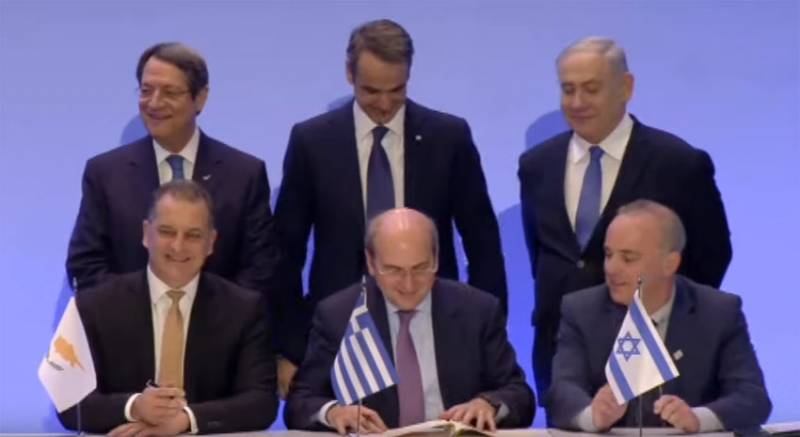 Israel, Cyprus and Greece decided to compete in the gas supply market in southern Europe. It is actually about creating an alternative to the Turkish Stream gas pipeline and the so-called Trans-Anatolian TANAP pipeline.
The information resources of these countries report that an agreement was signed today in Athens to build the EastMed Pipeline gas pipeline, which will carry gas from the Middle East to Greece.
According to recent reports, the total length of the EastMed Pipeline gas pipeline should be approximately 1,9 thousand km. It is planned to make the deposits of Israel and Cyprus as donors for this gas pipeline. Gas through the pipe, which they intend to lay along the bottom of the Mediterranean Sea, must go to the Greek island of Crete, where they are going to create a terminal, from where "blue fuel" will be sent to continental Greece.
According to plans, the gas pipeline's capacity should reach about 2025 billion cubic meters of gas per year by 10.
Israel, Cyprus and Greece note that the new gas pipeline could "strengthen the energy security of Europe."
In Turkey, they write that the EastMed Pipeline gas pipeline will not have economic returns, since the Greek economy at the moment is such that the capacities of the new gas pipeline will not be in demand.
Nevertheless, the Greek, Cypriot and Israeli leaders (Mitsotakis, Anastasiadis and Netanyahu) made a deal, noting that the gas pipeline "will not infringe on the interests of other countries."
At the moment, the US reaction to the construction of the EastMed Pipeline gas pipeline is not reported. If a new pipeline is created, it will inflict an additional blow on the interests of the United States, which intends to increase the supply of shale gas to the EU.