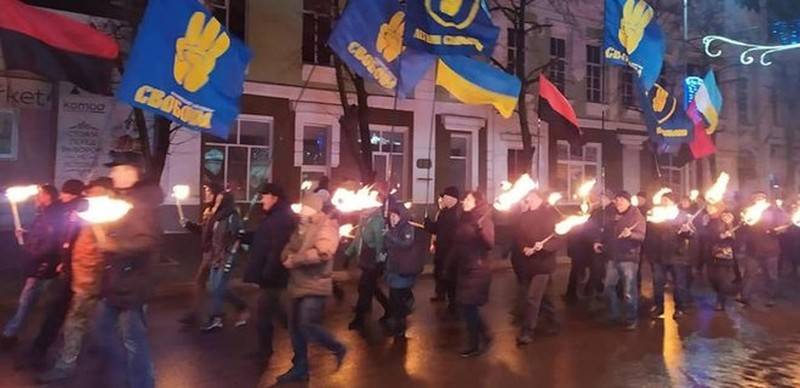 Security measures were strengthened in Kiev: activists held a torchlight procession dedicated to the anniversary of the birth of S. Bandera. The march of Bandera was watched by police, national guards, bomb technicians, and even dog handlers.
The route of the column of followers of Bandera was laid from the park of T. Shevchenko past the Bessarabian market and then along Khreshchatyk. The column was led by drummers. The procession participants carried torches and a giant poster with a portrait of their idol. The portrait had a destination: a banner with Bandera decorated the city hall of Kiev.
The procession was accompanied by cries of "Glory to Ukraine, glory to the heroes!" And "We are Bandera, and we are going." Other participants seized children at the event.
On Khreshchatyk, Bandera organized a "veche" near the City Council. O. Tyagnibok addressed the meeting. Then the activists sang the Ukrainian anthem in chorus and slowly dispersed.
There are no exact data on the number of marching nationalists. According to some Ukrainian media reports, there weren't even a thousand of them.
It is indicated that the past "March of Honor, Dignity and Freedom" was jointly organized by the "Right Sector" (an organization banned in the Russian Federation), the Freedom Party and the National Corps.
Recall that S. Bandera during the war years collaborated with Germany and headed the OUN (organization banned in the Russian Federation).
In parallel with the march in Kiev, a rally was held in the city of Lviv. The nationalists there held a meeting at the monument to Bandera.