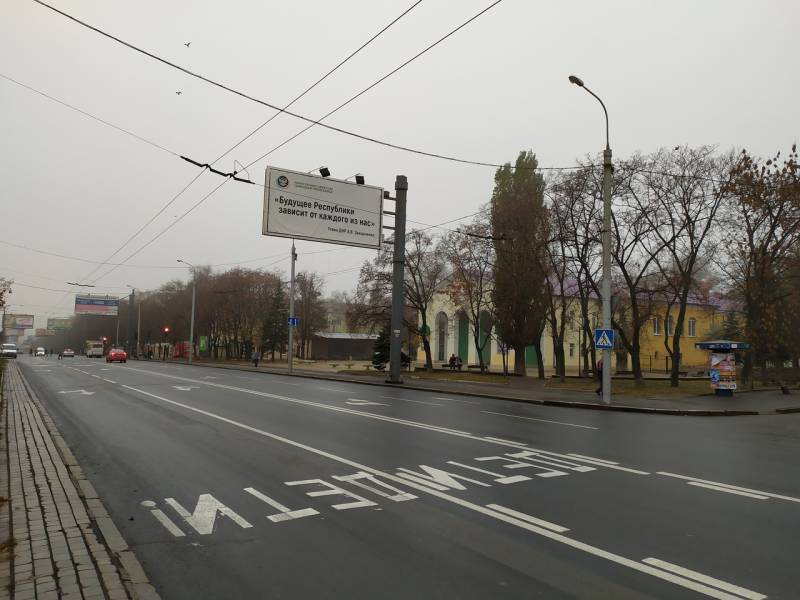 It's time for hope and fulfillment
In the past year, changes in LDNR from quantitative to finally qualitative. Donetsk and Lugansk greeted the year 2019 with optimism, albeit very, very cautious.
Non-alternative elections, which were long ago won by the acquaintances Leonid Pasechnik and Denis Pushilin, traditionally loud promises and other attributes of a formal dialogue between the republican government and the people that have long been familiar times of Plotnitsky - Zakharchenko.
Nevertheless, in March, persistent rumors spread throughout the republics that the LDNR population would soon begin to receive Russian passports. It soon became a reality.
Finally, the population had a real chance to break out of the indefinite "Minsk" and see that everything experienced and suffered was not in vain. That no one will abandon the republic, that Russia has some real plans, and not the notorious "KhPP".
Oh, how much poison was then, in the spring, in the publications of the Ukrainian media and domestic guard patriots! They lied that passports are handouts. That they will be given out to hundreds of thousands of citizens, and the rest will be given to Ukraine, etc.
Today, about 200 thousand inhabitants of Donbass have already become Russians, and their number is growing. There is reason to believe that Moscow is preparing new measures in order to ensure security and normal living conditions for its newfound citizens.
Revenue increase
Another positive shift was the increase in pensions and other benefits, as well as salaries to state employees and civil servants by 20-30%. Moreover, the following is scheduled for January 1, 2020. More recently, the service or work of a teacher seemed completely unattractive. Now people are again drawn to institutions - it makes sense to work.
The ever-dissatisfied network sufferers claimed that an increase in pensions and salaries would certainly be followed by an increase in utility bills and other Egyptian executions. Indeed, soon the government announced an imminent increase in housing and communal services tariffs. Fortunately, the increase affected only garbage collection, water supply and rent, and averaged 150-300 rubles. A fly in the ointment did not spoil the barrel of honey.
Flash mob and war
Since the victory of the new Ukrainian president Vladimir Zelensky, fighting on the demarcation line has reached a degree of intensity comparable to 2015. While the Ukrainian show leader talked about his love of peace, artillery worked at the front and passed
tank
dueling. Nevertheless, unknown political strategists decided to go all-in and demonstrate to Kiev the readiness of Lugansk and Donetsk to implement the Minsk agreements. As a result, a stupid flash mob was held, the implementation of which became a bitter mockery of everything for which they are fighting and dying in the Donbass.
Fortunately, despite the glee of adherents of the all-time discharge of New Russia, the flash mob ended in nothing, and soon it completely dried up, leaving an unpleasant aftertaste. New diplomatic and media shows began: the withdrawal of forces and means, talk about the Steinmeier formula, etc. It should be understood that all these are nothing more than elements of a political game, and they should be treated the same way as the statements of politicians - take into attention, but not seriously.
Kremlin policy
In general, it should be noted that Russia's policy regarding LDNR has clearly become more open and substantive. One feels that Moscow was tired of the endless stupidity of Kiev. There is a feeling (and damn, I want to believe him) that in the near future Ukraine will nevertheless be put in a position where it openly admits that it cannot and does not intend to implement the Minsk agreements.
It is not for nothing that in Kiev they are increasingly urging to say goodbye to the Donbass forever (and in the LDNR they remind you that the borders of the republics lie along the borders of the former regions) and fence themselves off with a wall and a moat with crocodiles. I would like to believe that in 2020 we will see even more specifics and the future will finally take shape. And let it be a form of Ossetia or Abkhazia, it will already be a big victory. Although, of course, as soon as LDNR finally and officially passes under the Russian protectorate, the whining about the discharge of Donbass will immediately be converted to the whining about the discharge of New Russia "from Odessa to Kharkov." But there is nothing to be done: for some people, nagging is a profession and a way of life.