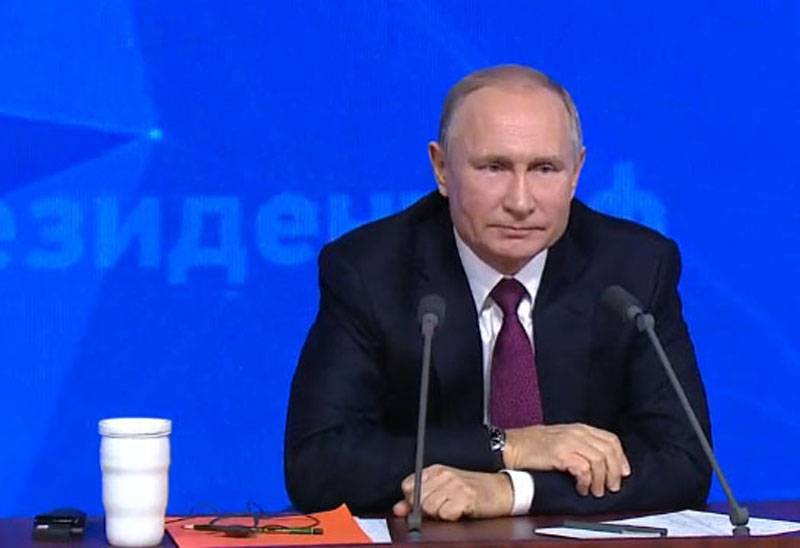 Bloomberg, an American news agency, sums up the results of Vladimir Putin's 20-year stay in power. Recall that during a major press conference one of the journalists called this term the 20th anniversary of the presidency, "to which Putin objected, noting that from 2008 to 2012 he was not the president of the Russian Federation.
The Bloomberg Information Service writes that Vladimir Putin's main achievement over this 20-year period is Russia's restoration of much of the influence that was lost after the collapse of the USSR.
The material says that Vladimir Putin during this time has done a lot to strengthen economic and political contacts with China. At present, China is the main economic partner for Russia. According to preliminary estimates, in 2019, trade between the Russian Federation and China will be a record $ 118 billion (in 2018, it was about 108 billion). Countries set as their goal in the near future to increase the volume of trade to $ 200 billion. The Power of Siberia gas pipeline is capable of contributing to this. It should be noted that in the last couple of years, trade between China and the United States has been declining due to the so-called trade war. In the first half of 2019, the volume of trade between these countries fell by almost 15 percent. However, in total they remain huge - about 400 billion dollars a year.
Putin's achievements from 1999 to the present
Bloomberg
relates the increase in the territory of Russia due to the annexation of Crimea, the establishment of Russian supplies
weapons
to NATO - Turkey, strengthening influence in the Middle East, primarily through operations in Syria and diplomatic measures in the Gulf countries.
From the material:
Russia has become a major force in the Middle East. At the same time, it expands its influence on Africa. Also, Putin today manages to set the tone for the Norman Four summits.
The publication did not consider the problems during the 20-year term of Vladimir Putin's stay in power.