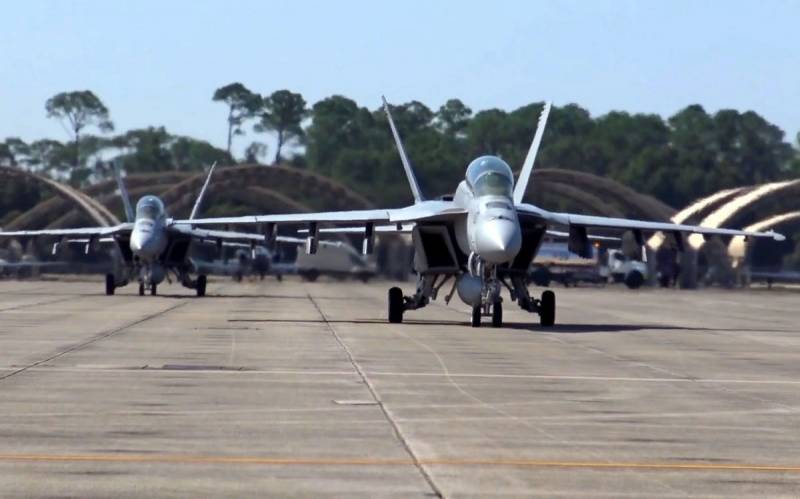 On the eve of the American
aviation
after a sufficiently long break, attacked targets in Iraq. If previous attacks were carried out on objects and military equipment of ISIS fighters (banned in Russia), this time the US aviation bombed, as claimed, Hezbollah's facilities.
The Pentagon reported on Hezbollah's strike in Iraq, noting that the strike's decision was "a response to numerous attacks on military bases in Iraq." In total, according to Assistant Secretary of Defense Jonathan Hoffman, five Hezbollah targets were hit. It is alleged that among them are "warehouses with
weapons
and ammunition, "as well as infrastructure facilities of the group.
From a statement by an American official:
We have set ourselves the goal of reducing the potential of Hezbollah in Iraq - it should not have at least some ability to strike at coalition forces.
At the same time, Mr. Hoffman did not specify what kind of "coalition" at the moment we are talking about, if a few months ago, US President Donald Trump announced his victory over ISIS * in Iraq and Syria. Coalition against whom this time?
The Shiite militia of Iraq reports that as a result of the airstrike by the Americans, about 25 people died and more than 50 were injured. We are talking about the militia "Al-Hashd al-Shaabi", which at one time took an active part in the fight against ISIS. However, most members of this militia are Iraqi citizens.
Iraqi authorities make it clear that the American attack was not coordinated with official Baghdad. The Prime Minister of Iraq initiated the convening of an emergency meeting of the Security Council of the country.
At the moment, representatives of the Ministry of Defense, including its head Mark Esper, have informed the US president about the strikes against Iraq. At the same time, Esper said that the strikes would continue in order to "prevent the strengthening of Iranian forces in the region." While there is no data on what means of aviation the United States used, striking the territory of Iraq.