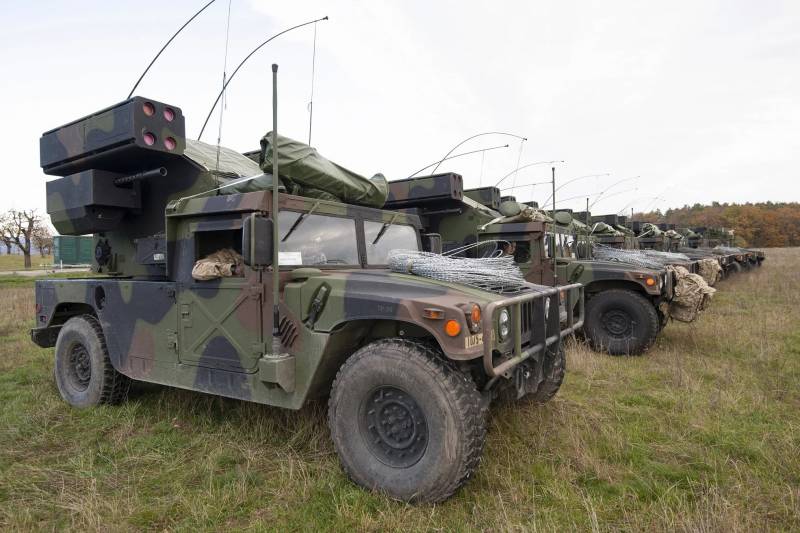 The US Army is returning its Avenger anti-aircraft missile systems to the Humvee multipurpose wheeled vehicles.
The return of these air defense systems is "in the face of Russian aggression," writes Defense Blog.
Last year, the American army restored the active SHORAD battalion in Germany. The 5th battalion of the 4th artillery air defense regiment (5-4 ADA) was armed with the Avenger systems mounted on the Humvee with a modified top and a pair of Stinger missiles. Such a combined weapons system, the publication indicates, provides mobile protection against missiles, low-flying aircraft and, more recently, unmanned aerial vehicles.
Avenger anti-aircraft missile systems were first used by the US Army back in 1990. In recent years, most of them have been transferred to the National Guard or simply stored in army warehouses.
In 2018, 72 Avengers were taken out of Pennsylvania. Half of the air defense systems are now at the 5-4 ADA, and the remaining air defense systems are ready-made delivered to a warehouse in Germany.
"Avengers" returned to the army in accordance with the initiative of the chief of staff of the army. According to the military, this decision aims to bridge the gap in short-range air defense capabilities, from which the United States and its NATO allies in Europe "suffer". The army received a "warning signal" while observing the conflict in Ukraine, the publication points out.
In addition, it is reported that the American army thereby lays the foundation for large-scale military operations with an enemy like Russia.
In addition to improving logistics systems and strengthening the military power of armored forces, the U.S. Army currently supports short-range air defense units known as SHORAD battalions. Since the army is developing its potential for conducting large-scale military operations against someone similar to Russia, then SHORAD units are again in demand, analysts conclude.
Recall that SHORAD stands for Short Range Air Defense. These are short-range air defense battalions whose tasks are to protect against low-altitude air threats. First of all, it is defense against helicopters and short-range airplanes and short-range flights - for example, from the Su-25.